Full Time Learners Aged 16-18 Years – Achievement (2021-22 Year-End)
Outcomes for Learners
Achievement rate – all programmes excluding English & Mathematics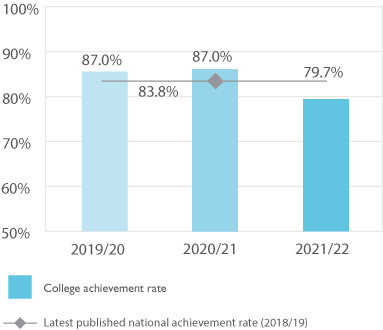 21/22 saw the return of normal assessment methodology following 2 years of teacher and centre assessed grades. The majority of this cohort of learners had not previously sat examinations and their prior-learning was negatively impacted by Covid-19. Achievement rates for our full-time learners aged 16-18 years have therefore seen a slight decrease at all levels, but this is expected to be reflected nationally. The last published rates for comparison are from 18/19 pre COVID.
Through the Government's 'catch up' funding we were able to offer 889 learners additional tuition to close gaps in their knowledge due to lost learning during the COVID pandemic.
We supported our first three groups of T level learners to achieve this new qualification. 90% passed all elements of the T level including the industry placement.
Achievement rate – level 1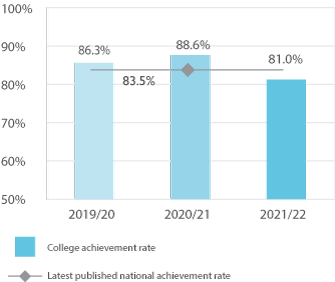 Achievement rate – level 2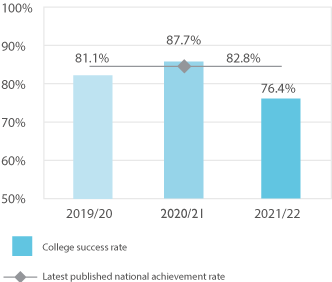 Achievement rate – level 3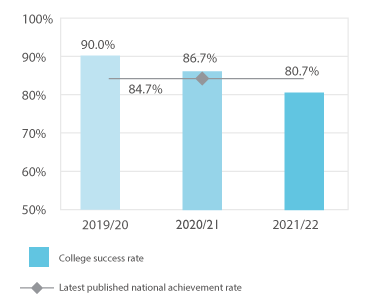 The overall achievement rate now stands at 79.6% and is 3.7% below the last published rate of 83.8%.
Level 1 achievement rate is now 81.0% which is 2.5% below the last published national rate.
Level 2 achievement rate is now 76.4% which is 6.4% below the last published national rate.
Level 3 achievement rate is 80.7% which is 4% below the last published national rate.
We are currently waiting for national rates for 21/22 for comparison.
GCSE retake results – three year trend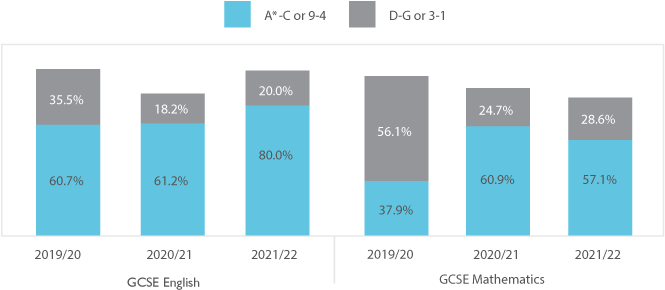 Due to many learners accessing GCSE resits being awarded a centre or teacher assessed grade when they joined the College, many were entered onto a 2-year GCSE resit programme as the gaps in their learning were significant. This meant that the number of learners completing their GCSE resit in 21/22 was lower than in previous years. The vast majority of learners, will resit and receive their grades in 22/23. Those who did complete demonstrated strong performance in grades 9-4 in both English and mathematics.
Functional skills SfL achievement rate – all levels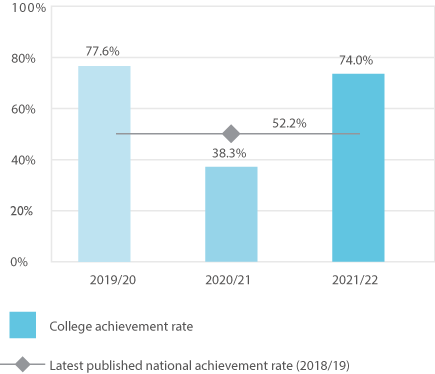 Following a significant drop in achievement rates in Functional Skills in 20/21 due to the impact of Covid 19, there has been a significant increase in achievement rates for 2021-22. This has seen an improved picture against the last published national achievement rate of 52.2%. A return to classroom face-to-face teaching has had a positive on learners studying Functional Skills.