Full Time & Part Time Adult Skills Learners – Achievement (2021-22 Year-End)
Outcomes for Learners
Achievement rate – all levels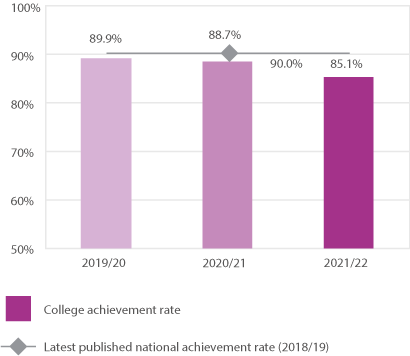 Overall achievement rates for our adult learners remain relatively stable compared with previous years, with a slight dip in Level 3 achievement of 4.6 % due predominantly to retention on Access programmes. At level 2 achievement rates remain slightly below last published national. Level 1 also saw a slight drop of 2.6% and we will be focusing on reversing this trend this year.
Achievement rate – level 1
Achievement rate – level 2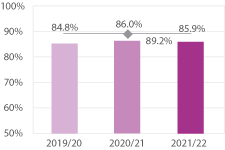 Achievement rate – level 3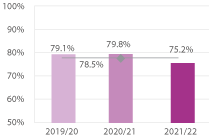 Functional skills achievement rate – all levels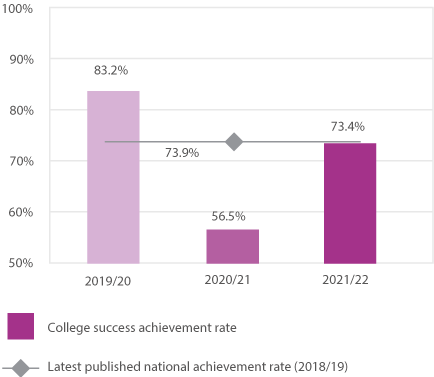 Functional Skills qualifications saw an upturn in achievement rates more in line with pre-pandemic levels with overall rates equal to nationally reported results.
19+ GCSE Results three year trend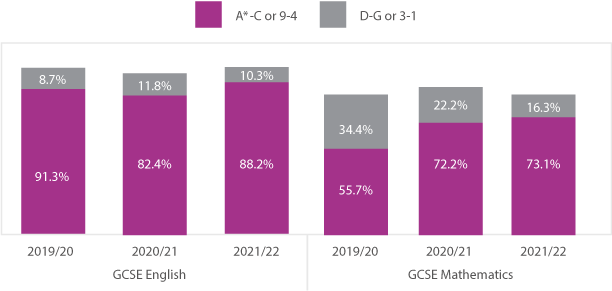 We are delighted to report a consistently strong high grades performance by adults who are resitting GCSE English and mathematics either through discrete adult classes or those infilling into programmes of study. GCSE English has maintained an extremely strong 9-4 high grades outcome of 88.2%. This year high grades in mathematics were 73.1% which is a very strong performance.