Dudley Dashboard – Higher Skills Learners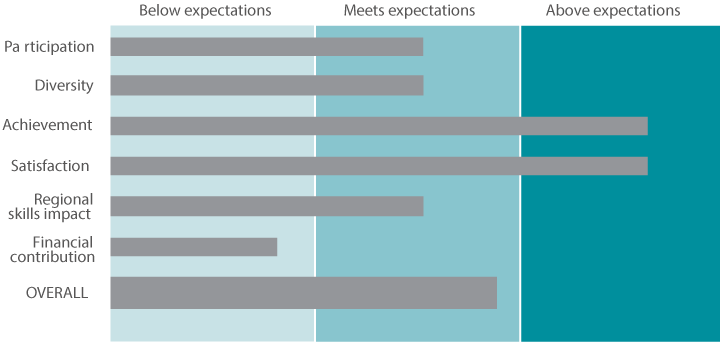 The overall performance of this key client group is 'meets expectations'. Student achievement and satisfaction feedback remain high and above expectation. There continues to be a fall in recruitment, and associated financial contribution, to traditional stand-alone HNC/D programmes.
Our focus going forward will be to continue to expand the range of programmes at higher level by offering non-traditional routes to HE, delivered from the Institute of Technology and in partnership with Regional Universities. We are looking to increase the number of students progressing from feeder programmes to the College's HE provision, particularly through the College's involvement in the Aspire to HE project initiative.
---
Enrolments
Updated in-year
Number of learners
601
Up 13% on same time last year

Achievement
HNC/D achievement rate
89%
Down 6% on previous year

Performance
Updated in-year
Monthly attendance rate
89%
Down 3% on same time last year

Satisfaction
Updated in-year
Overall satisfaction
82%
Induction Survey 2022/23
Diversity
Learners from Black, Asian and minority ethnic groups
21%
Higher than the 12% of local population

Destinations
Percentage of students in STEM
54%
Up 7% on previous year