In April 2017 the Government created the Apprenticeship Levy to encourage employers to train new employees and upskill existing staff using the Apprenticeship programme.
Our Employer Services Team can advise you on the costs and incentives specific to your business; and further to this, we can provide you with a broad and free training needs analysis, to help futureproof your company and meet your skills requirements.
Call 01384 363 808 or email employerservices@dudleycol.ac.uk.
Am I a Levy paying employer?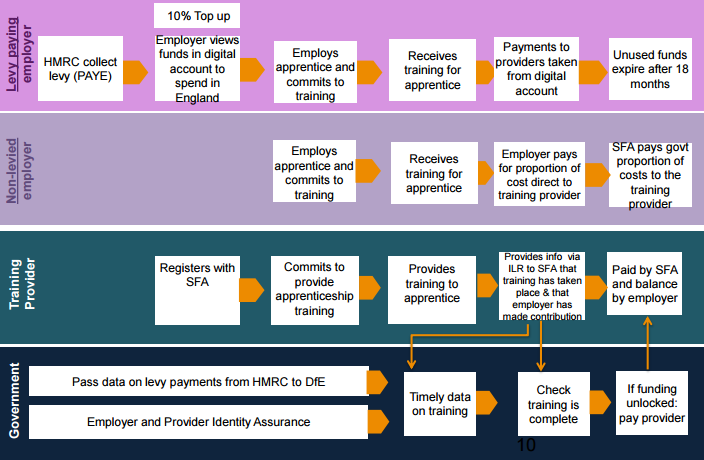 Are there any other funding incentives for employers?
If you're a non-levy paying employer, the employer co-investment contribution of 5% will be waived for small employers (under 50 staff) training young apprentices (aged 16 to 18).
There is a £1,000 incentive for each 16 to 18-year-old recruited, or for 19-24-year-old apprentices with a care plan; this is paid directly to the employer in 2 instalments (at 3 and 12 months after the start date).
CITB grants are available for employers registered as a construction company, training an apprentice on a construction programme; Dudley College can assist you with the application.
Funded support for transferable skills in maths, English and ICT can also be included within the apprenticeship programme.
If you employ an apprentice under 25 then you won't pay employer national insurance contributions for the apprentice. This saving is almost always more than the 5% contribution to training for non-levy payers. Plus, the more you pay the apprentice the higher the saving.
Non-Levy paying Employers
All employers of apprentices are required to establish and manage their own Apprenticeship Service account.
Whether you are looking to recruit your next generation of staff or to upskill existing employees, the new AS (Apprenticeship Service) will be the portal that enables the College to help you to access funding for training and to undertake recruitment services on your behalf for any apprenticeship positions that you wish to fill.
We understand how difficult and time consuming this process can be, so we have decided to take the pain out of setting up and managing an AS account by offering a free AS Management Service to Employer Partners of the College. You will be supported at every stage by an Employer Engagement Manager who will be assigned to your business to provide you with support throughout your journey as an Apprentice Employer.
What is the Apprenticeship Levy? 
Here's the facts about the Levy:
If your payroll bill is in excess of £3m, you will have to pay the Apprenticeship Levy.
The levy applies to England only
The levy rate is 0.5% (gross) of your total annual pay bill and paid through PAYE
You pay regardless of whether you train apprentices or not
All employers have an allowance of £15,000 to offset against their levy liability. The levy allowance is not a cash payment
Employers in England who pay the levy will be able to get out more than they pay into the levy, through a 10% top-up to their digital accounts
You can access your Levy funds through an online portal called the Apprenticeship Service
You can use your levy funds to buy Apprenticeship training from approved providers.
What can the Apprenticeship Levy be spent on?
Digital funds and government funding can be used for:
Apprenticeship training and assessment
Against an approved framework or standard
With an approved training provider and assessment organisation
Up to the funding band maximum for that Apprenticeship
Digital funds and government funding can't be used for:
wages
travel and subsistence
managerial costs
traineeships
work placement programmes
the costs of setting up an Apprenticeship programme
How the funding system works: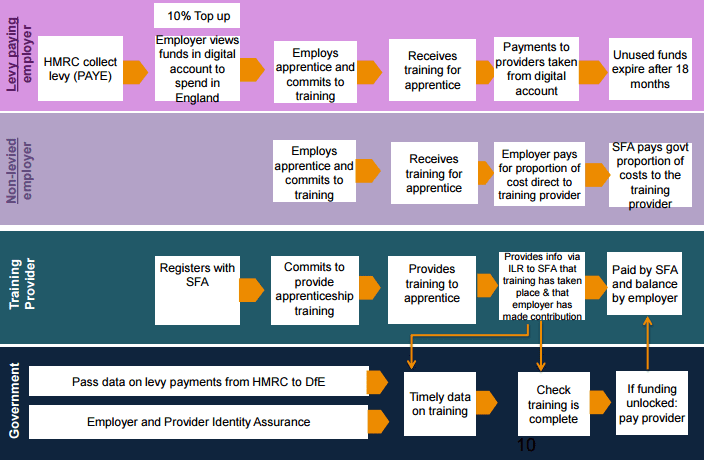 Step-by-step guide to the Apprenticeship Service
To assist you in the process, we have produced a step by step Digital Apprenticeship Service User Guide. Download this now for help with setting up your account, how to add apprentices, set up payments and much more! 
Confused? Want to know more?