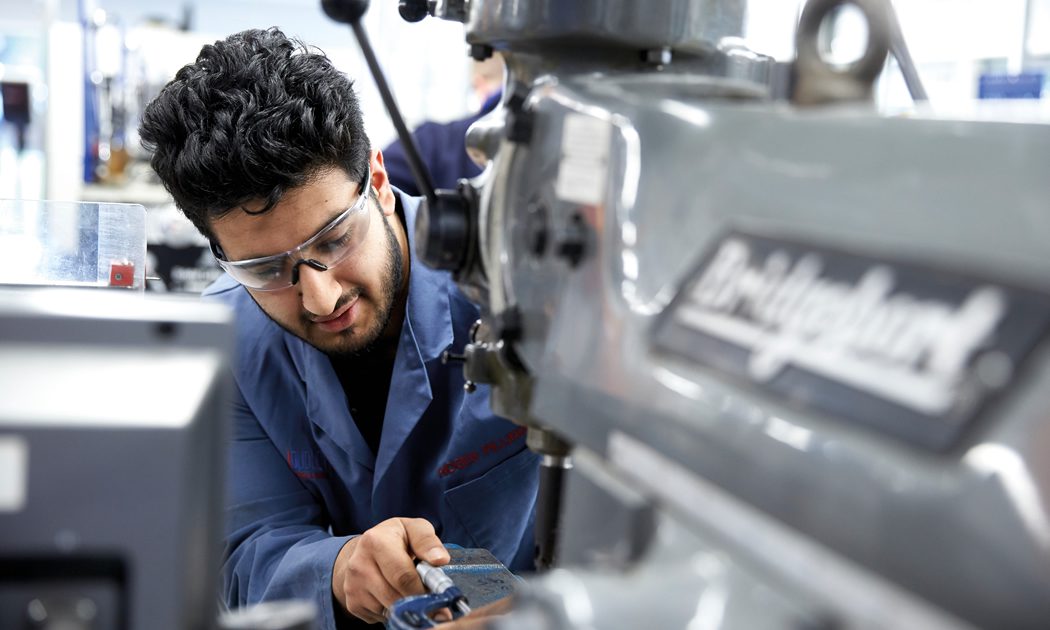 The Programmable Logic Controllers (PLCs) modular course is designed to support learners who are employed in engineering and manufacturing, specifically aligned to PLCs. Learners may have completed a previous engineering qualification and wish to progress to higher level study or develop knowledge and skills required to work in industries where there are requirements to utilise PLC and automation technologies.

This course is aimed at employers and in work adults that do not wish to commit to a long-term programme of study due to work / family commitments.
Learners will gain an understanding in the following:
• PLCs: Types, inputs and outputs, configuration, languages, scan cycles.
• Connecting a PLC and associated input/output devices
• Ladder Logic programming using a PLC simulator
• Siemens PLCs and TIA Portal programming software. Set-up, connection, configuration of Siemens S7-1200 PLCs
• Combinational logic using switches, lamps, solenoids, pistons
• PLC Timers and Counters
• Sequential logic
• MPS stations - from first principles to identifying the inputs and outputs on a pre-built PLC system
• Write PLC programs to operate a FESTO MPS conveyor/sorting system

Learners will leave with the work-based competences required by employers.
There are no formal assessment for this qualification.
• Flexibility in the delivery of the 8-week course modules will allow learners to progress to other modules or higher-level courses / Higher Education.

• There is a shortage of engineering learners progressing to Level 4 study these short courses can help provide the necessary bridge to Higher Education if the learner has been out of education for an extended period.

• This course will also support adults who aspire to work within Engineering/PLC sectors and will develop their confidence and ability to support increased job opportunities into the Engineering/PLC sectors.

• This can be used as a CPD course to upskill within their current working environment, using high specification Robotics equipment


• Delivery will be in the form of practical workshop-based sessions taking place at the Black Country & Marches Institute of Technology offering learners access to modern facilities with industry standard equipment and the latest technologies.
All class-based material will be provided.
You will receive a competency certificate on completion of your course.
The progression routes from this course are:
• Entering employment
• Continuing existing employment (improving understanding and upskilling)
• Opportunity to progress to other units within this group of offerings such as the PLC Intermediate, Robotics and Pneumatics (Automation) courses.
• Progression to apprenticeships
• Higher Education
For entry onto this qualification learners must havea keen interest in Emgineering/Programmable Logic Controllers (PLCs). It would be beneficial to have an understanding of PLCs/Electrical engineering, but not essential.
Can I get help with fees?
Funding may be available to support your learning as an adult (aged 19+) studying at Dudley College. Check out the Financial Support guidance for more information.