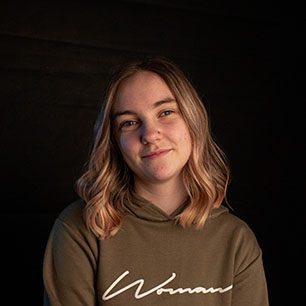 I chose to study at Dudley College because I'd heard good things about them. All of my siblings have been to Dudley College and they all had amazing experiences.
When going to the virtual open days, I was amazed by how passionate all of the different tutors were about the courses. I also spoke with Learning Support and they were very helpful with what they could offer to support me. Everything was very organised, whereas other college open days weren't.
All of the teachers have been so kind. When collaborating with other departments, the tutors have been very welcoming in allowing me to photograph what I need to.
My tutor, Phil, has been so supportive during my time at Dudley College. He's encouraged me to become more confident which has helped with my self-esteem and confidence. Phil is also very supportive regarding mental health. He doesn't push anyone to do anything they don't want to/can't do and he's always told us that if we ever need anyone to talk to about anything, he's here for us.
My other tutors Luke, Jason & Stuart are also all very supportive. They've always been there to help if we ever need it.
The facilities are amazing. We have two studios, two iMac suites and a whole corridor full of iMacs and PCs. We're encouraged to use all this space as much as we want/need, which is helpful if I can't do any coursework or photoshoots at home.
The college as a whole is amazing. The atmosphere I get from being at college is great, so much to the point I decide to come to college on my days off to get more work done and to see friends.
After college I would like to set up my own freelance photography business. However, I am keeping my options open for University as well.