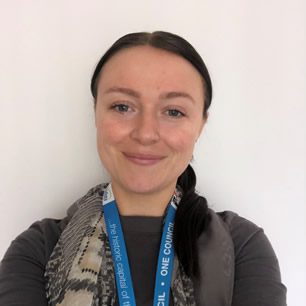 When I left school I didn't want to go to university and get into debt for studying. I wanted to continue learning while earning a wage, so an Apprenticeship was the obvious choice for me. I began my career as an Early Years Apprentice working in a Nursery, but after a few years I decided I wanted a change of career and knew that the Apprenticeship route was the path I would take again.
I secured a Business Admin Apprenticeship in the Children's Services Business Support department at Dudley Metropolitan Borough Council (DMBC) and I haven't looked back! I achieved my Level 2 in Business Administration, followed by Level 3, which resulted in me being promoted to Business Admin Assistant and employed as a permanent member of staff at the Council.
I'm now progressing my career further with the Council, undertaking a Team Leader Apprenticeship which will give me the platform to advance my career to management level.
Undertaking an Apprenticeship has given me the pivotal skills that I needed to get my career started and I get to earn while I learn, getting qualified and being paid to do it!
Working in the busy offices of Children's Services within Dudley MBC has enabled me to learn many new skills, create relationships with professionals, and understand the challenges that workers face every day through first-hand experience.
The support I have been given has been incredible. From my managers, colleagues and my tutor at Dudley College.
I'm happy that I chose an Apprenticeship and I am proud of my achievements so far - I achieved a Distinction at Level 3 Business Administration – and it has given me opportunities I could never imagine myself doing.