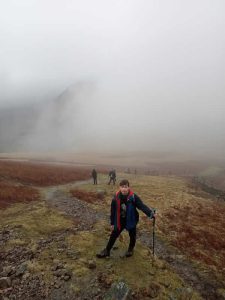 On Monday 13th March, a combination of Level 1 to 3 Photography, Art, Graphic Design, Production Arts, Music and Tourism students along with members of staff took on the challenge of climbing Scafell Pike, despite challenging weather conditions. Accompanying the group on the day was former Dudley Mayor Steve Waltho, as an experienced climber, he helped the group of 30 reach 1,500 feet from the foot of the mountain. As the weather took a turn for the worst towards the end of last week which persisted through to their trip, achieving this height was even more impressive and a great reflection of the resolve and enthusiasm of our staff and students!
This hike was in support of the College's nominated charities, Ronnie & Friends and Black Country Mental Health, which students and staff have now raised approximately £1,500 for. This was through events such as bake sales, organised and hosted by students and Phil Brooks, along with other staff members from across the college. Individual students have also been fundraising for this cause, with Photography student Louis Simcox raising over £300 through his own efforts!
Founder of Ronnie & Friends and staff member Aimee Garratt spoke about the fundraising, 
'We are well on our way to reaching our goal, currently near £13k! This has been achieved by the fantastic community support and fundraising events, including the efforts of the wonderful Dudley College staff and students who recently climbed Scafell Pike, they are a true inspiration and I am so proud to work with them and have them supporting Ronnie and friends.'
Aimee set up Ronnie & Friends as a local charity dealing with baby bereavement, after having her own experience dealing with the loss of a baby.
'I founded Ronnie and friends after the loss of our beautiful little boy Ronnie, who was born sleeping on the 23rd of June 2022. The loss of a child is unexplainable, it is a pain that Ronnie's Daddy and I will live with for the rest of our lives, along with our family. 1 in 4 pregnancies end in loss, that's 1 in 4 Mommy's, Daddy's and extended families that feel how we feel.
'Currently Russell Halls Hospital has 1 bereavement suite, which allows families to spend time with their precious babies, in private away from the 'normal' delivery environment. The current room allowed us to spend time with Ronnie, however with currently only 1 room available, if two families face the devasting loss of losing their baby, one family would have to wait or deliver in a 'normal delivery suite'. As a mom that has lost, I am unable to imagine the additional trauma that this would bring.'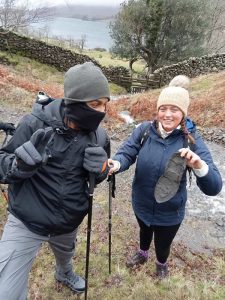 The Scafell Pike hike and all fundraising that has already taken place has been a massive achievement for our staff and students and is greatly appreciated by these charities and the local community.
Donations from all are still welcome, please contact Aimee.Garratt@dudleycol.ac.uk for more information.