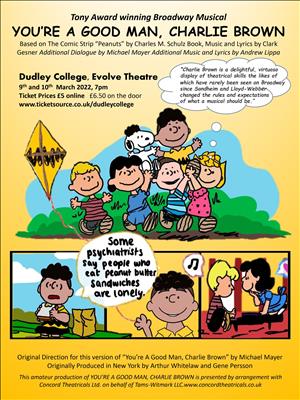 Come and join us for a joyful evening of musical theatre comedy!
Our wonderful musical theatre students are proud to present Tony-Award winning 'You're A Good Man, Charlie Brown', based on the famous comic strips 'Peanuts' by Charles M Schultz.
Dates: Wednesday 9th and Thursday 10th March 2022, 7pm
Location: Dudley College of Technology, Evolve Theatre, Tower Street, Dudley, DY1 1AF (parking at DY1 4AS)
The original comic strip ran from 1950 to 2000, making Charles M Schultz over 1 billion dollars and it was transformed into a magnificent family musical by Clark Gesner. Beneath the jokes, the cartoon tackled adult level philosophical, psychological, and sociological matters from the point of view of a group of five-year-olds. Think 'The secret life of five-year-olds' but with song, dance and philosophical concepts!
Don't miss this wonderful award-winning musical comedy. 
We look forward to seeing you there!