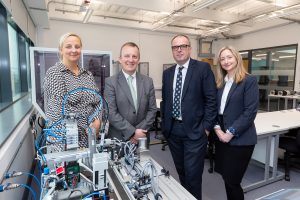 The Black Country and Marches Institute of Technology (IoT) today announced an exciting collaboration with two new college providers in the Marches.
Joining forces with Herefordshire, Ludlow and North Shropshire College and Telford College, the partnership will see much needed higher-level skills in engineering delivered in the Marches area.
Led by Dudley College of Technology, the Black Country and Marches IoT aims to meet the skills demands of industry by providing technical training from Level 4, up to degree-level with university partners.
The new partnerships were today confirmed through a formal launch event at the Black Country and Marches IoT main site on Zoological Way in Dudley.
Commenting on the new partnership, Susanne Davies, Director – Black Country and Marches IoT and Partnerships at Dudley College of Technology, said: "We are delighted to have new partners on board to bring the wider reach of the IoT to the Marches area. Initially focusing on much-needed engineering skills, these new partnerships will inspire new entrants or those already in the workforce to achieve higher level qualifications in a sector with significant skills gaps, including a shortage of new recruits moving into roles.
"Today's announcement builds on the existing partnerships in place with Avensys, In-Comm, the University of Worcester and the University of Wolverhampton – working together through the Black Country and Marches IoT with a shared vision of delivering higher technical education and training for the jobs of today and tomorrow, transforming our local economy and people's lives for the better."
Commenting on the new partnership Deputy Chief Executive of Telford College Janet Stephens, said:
"It's a natural strategic fit for Telford College to work under the banner of the Institute of Technology, as our purposes are aligned.
"We are already working in close partnerships with business to deliver world-class technical education and training. It will allow us to expand our offering by delivering more niche short courses in specialist skills including mechanical engineering, electrical and computer aided design – meeting the skills needs of local employers.
"By providing industry-led training that is designed by employers with clear career progression, we want to ensure young people and adults have the skills they need to build well-paid rewarding careers – while local businesses gain highly skilled and productive workers.
"The BCMIoT has established itself as an organisation that listens to what employers want and delivers it and that is what we are all about too."
Echoing that, David Williams, Chief Executive and Principal of Herefordshire, Ludlow and North Shropshire College said:
"Our Local Skills Improvement Plan has highlighted a real need to address the skills gap in the Marches. By working together through the Black Country and Marches IoT, we can address this gap across the wider region and ensure that the technical skills and knowledge needed to overcome the biggest challenges communities face are accessible to all." Telford College's delivery will be focussing on a number of new engineering pathways and skills delivery in emerging digital technologies, which are in high demand amongst Marches employers. Whilst Herefordshire , Ludlow and Shropshire College expect to focus their programmes at their Holme Lacey site linked to sustainable construction.