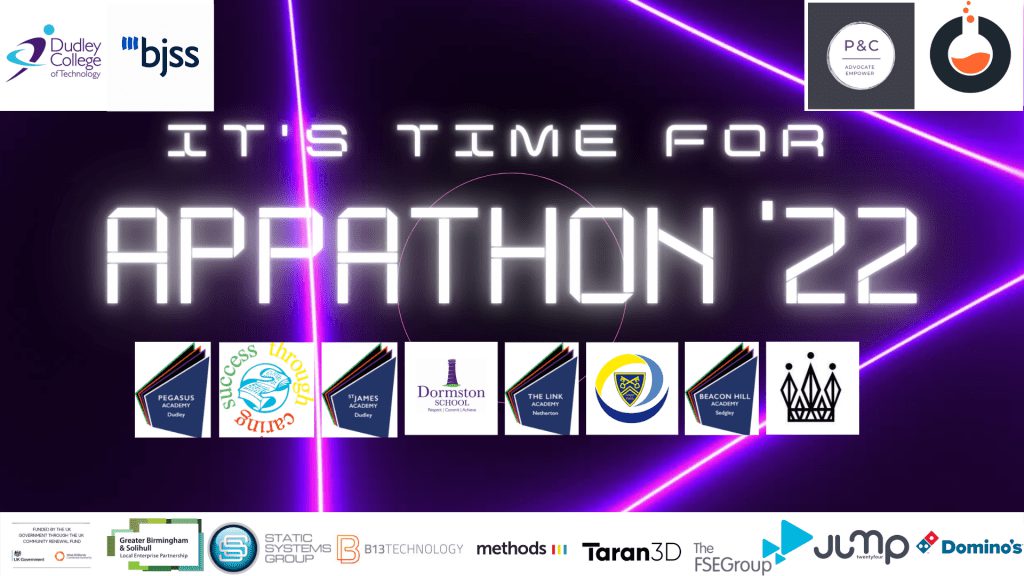 Dudley College of Technology has invited 10 teams of local school pupils to take part in an exciting and inspiring two-day tech event, Appathon 2022. The aim of the event is to explore and experience the world of digital app development through a team building challenge.
The event is being held on Thursday 31st March and Friday 1st April at the Inspired campus situated in Brierley Hill. The campus has recently been refurbished with state-of-the-art digital equipment, comprising new VR (Virtual Reality) kit, computer suites for games design and a purpose-built TV studio and motion capture suite.
The aim of the Appathon is to raise awareness of the wide range of job roles in the tech industry, and to encourage the participants to consider these in their progression choices and career journey.
Year nine pupils will focus on creating an app to support year seven pupils joining their school in September, to give them the information that they need to help them to settle into their new school. The competition will be judged by a panel of industry experts, with tech prizes awarded to the winning team and spot prizes presented throughout the event.
The Appathon is being supported by experts from the tech industry, including Clare Streets from Post & Codes and Jof Walters from Million Labs, who are experts in the world of building apps using no code. During the event, pupils will also hear from successful employers in the industry.
Funding has been provided through GBSLEP, WMCA and the UK Government through the UK Community Renewal Fund, and additional sponsorship from local employers has enabled us to provide some fantastic prizes for the winning teams including an Oculus VR headset and a podcast streaming deck.
Local schools taking part in the challenge include Beacon Hill Academy, Dormston School, Hagley Catholic High School, Kingswinford Academy, Pegasus Academy, St James Academy, and The Link Academy.