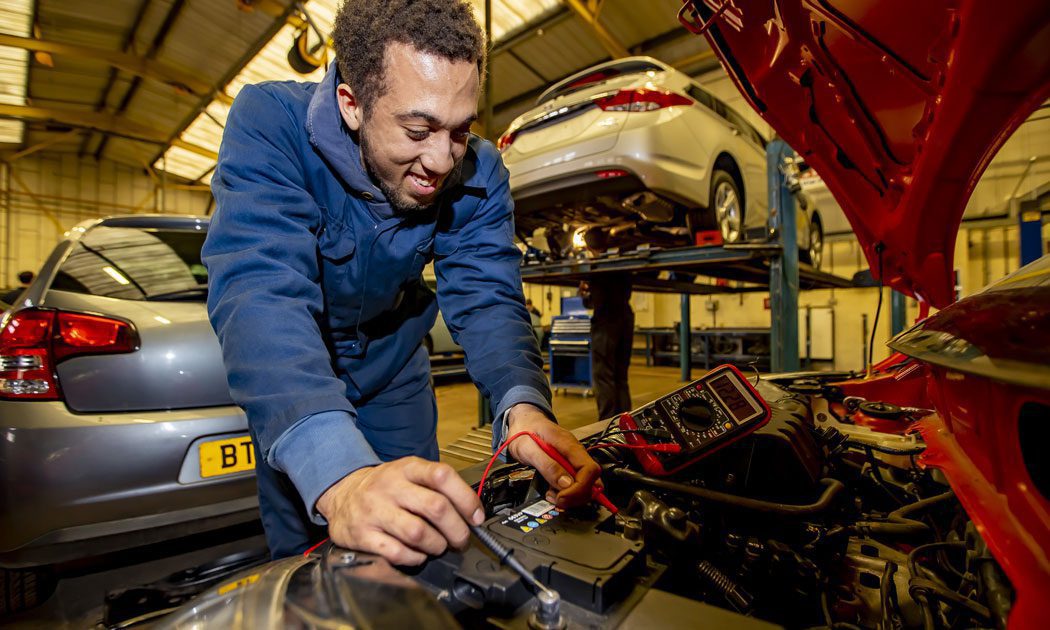 The qualification has been designed to meet the requirements of the motor vehicle technician services and repairs light vehicles and works either in dealerships that focus on a particular manufacturer, or for an independent garage that deals with many different makes of vehicles. To develop confidence and self-esteem among mature learners. To enable learners to make a contribution in employment. To provide flexible and challenging curricula as a basis for future studies and career development. To provide an educational experience to enable learners to develop skills, knowledge and understanding of the subjects. To develop learners' abilities by utilising the knowledge and applying the skills they have acquired in the programme. To meet the demand of learners for progression from further to higher education. To use student and employer feedback to influence continuous improvement of all programmes. To provide a nationally recognised qualification relevant to the learner's career aspirations. To develop and enhance lifelong learning skills.

This programme offers the benefit of experience at work, supported by learning at college and is especially suited to those who wish to undertake an Apprenticeship. It will enable you to develop skills in a real working environment and offer you the opportunity to gain an Apprenticeship. Over 25's are also welcome to apply.
F-Gas
Soft Skills and Behaviours
Induction and Foundation Skills
Routine Service Inspection
Simple Diagnosis Repair
Intermediate Diagnosis Repair
Complex Diagnosis and Repair
On programme assessment will include employers and the College reviewing progress via summative assessments at gateways 1 and 2. These assessments are designed to review the behaviour, knowledge and skills against set gateway criteria.
In addition, you are required to maintain an E-Log book evidencing progress over the duration of the apprenticeship, and a Synoptic practical End Point Assessment.
This course will develop skills and experience for apprentices providing technical guidance to quality and skills.
Free of charge for apprentices aged 16-18.
19+ a contribution by the employer is required. Please contact us for more information.
Motor Vehicle Service and Maintenance technician Level 3, F-gas.
1. You must be in employment at the start of the course. You will however be given guidance to secure your own employment.
3. You will have a minimum of 4 GCSE's at grade C including English and Maths at grade C.
4. You will need to take an initial assessment in Literacy and Numeracy and have a successful interview.
Acceptance onto the programme does depend on a placement offer from an employer. The initial assessment will be done at your interview.
Please note that you are expected to purchase your own Personal Protective Equipment.