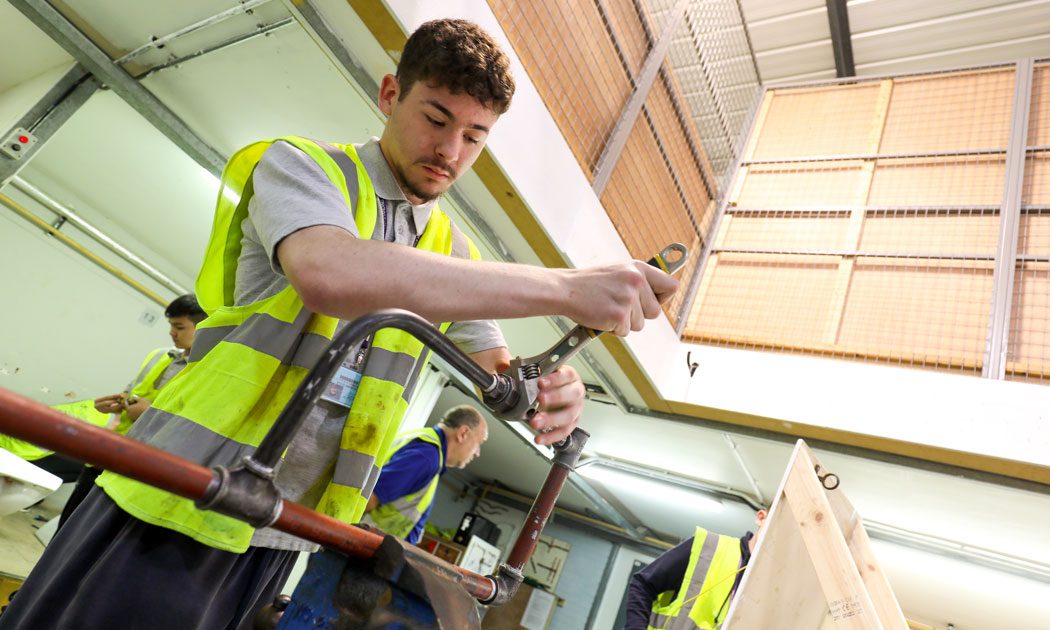 The apprenticeship is aimed at people wishing to learn skills in bricklaying. Bricklayers lay bricks, blocks and other types of building components in mortar to construct and repair walls, foundations, partitions, arches and other structures e.g. chimney stacks. They might also refurbish brickwork and masonry on restoration projects.

The course will develop your knowledge and skills associated with bricklaying introducing you to the various tools, equipment and materials you would use. You will develop your bricklaying skills by building basic structures working towards more complicated structures such as cavity walls and arches.

The knowledge and skills that you will learn on the programme will support your development within your working role as a Bricklayer onsite.
The course is split in to 3 specific areas –

Knowledge – health and safety, customer service, communication, buildings, energy efficiency, material, alternative construction techniques, radial and battered brickwork, feature and reinforced brickwork, fireplaces and chimneys.

Skills – preparation of materials, safe working, working area, masonry structures, radial and battered brickwork, feature and reinforced brickwork, other brickwork and building technology.

Behaviours – positive and mature attitude, quality focused, effective communication, self-motivated learner.

The delivery during the programme will cover all aspects of these KSB's and tasks performed throughout will cross over between them to cover a full range.

Further information can be found at –
www.instituteforapprenticeships.org/apprenticeship-standards/bricklayer-v1-1
The EPA consists of 3 discrete assessment methods.
The individual assessment methods will have the following grades:
Assessment method 1: Knowledge Test
· Fail
· Pass
· Distinction
Assessment method 2: Skills Test
· Fail
· Pass
· Distinction
Assessment method 3: Oral Questioning – underpinned by portfolio
· Fail
· Pass
· Distinction
Successful completion of this course would have significant benefits to any employer as you would be able to demonstrate all the knowledge and skills necessary to complete a wide range of building tasks that a fully qualified bricklayer might be asked to complete.
PPE will be required-
Steel toe cap boots
Gloves
Ear protection
Hi-viz vest/jacket
Eye protection
There will be a requirement to have equipment necessary for the classrom based activities such as: Scientific calculator, pencils, Black ink pens, ruler, maths set, rubber, coloured highlighters, A4 project book, A4 leaver arch folder.
After the successful completion of the End Point Assessment you receive an industry recognised Level 2 Apprenticeship certificate.
After successful completion of this course you could progress to a career within the bricklaying industry or progress to a higher level qualification.
The minimum entry requirements to join this programme are GCSE Grade 1 for Maths & English