Years of hard work since the age of 14, when she began her part-time job in a salon, has resulted in a Dudey College of Technology student making it through to the final of this year's WorldSkills UK hair dressing competition. 
Amelia Higgins (aged 20) a Level 3 Hairdressing Apprentice at college, fought her way to the national finals after last month winning a closely contested West Midlands regional heat. Demonstrating a range of technical skills including a classic cut and style and an editorial style hair up, Amelia was celebrated as one of the top seven stylists in the country, when selected to go forward to compete in the national finals in Manchester in November.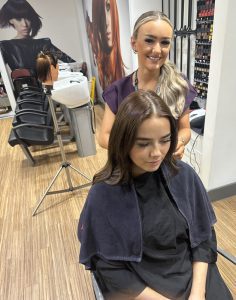 She now faces a gruelling four-day competition in which she will produce a range of hairdressing looks including classic "bridal" hair, razored mullet, catwalk hair, natural textures and balayage. Looking forward to the big event Amelia said:
"It's been a lot of hard work taking part in the Wordskills, whilst working full-time in the salon, but the support I have received from my employer, customers and staff and students at college has, been tremendous."
Her employer is Dy8 Desinz, in Stourbridge where Senior Director Isabelle Rose has given Amelia a huge amount of support and encouragement throughout the completion, transferring her own passion for creative hairdressing to Amelia.  
Thinking about heading to the finals Amelia is excited as she believes the competition has helped her to develop her own skills saying:
"Taking part in Worldskills, competing against the best young hairdressers in the country has driven me to deepen my own skills and unleash my creativity. The best part for me is responding to the competition briefs in the most creative way I can, hopefully producing something of a high standard that will wow the judges!"
And as a competitor in this year's national finals Amelia could be invited to join the WorldSkills UK International Development Programme for the WorldSkills Competition in 2026, which will be hosted in Denmark.