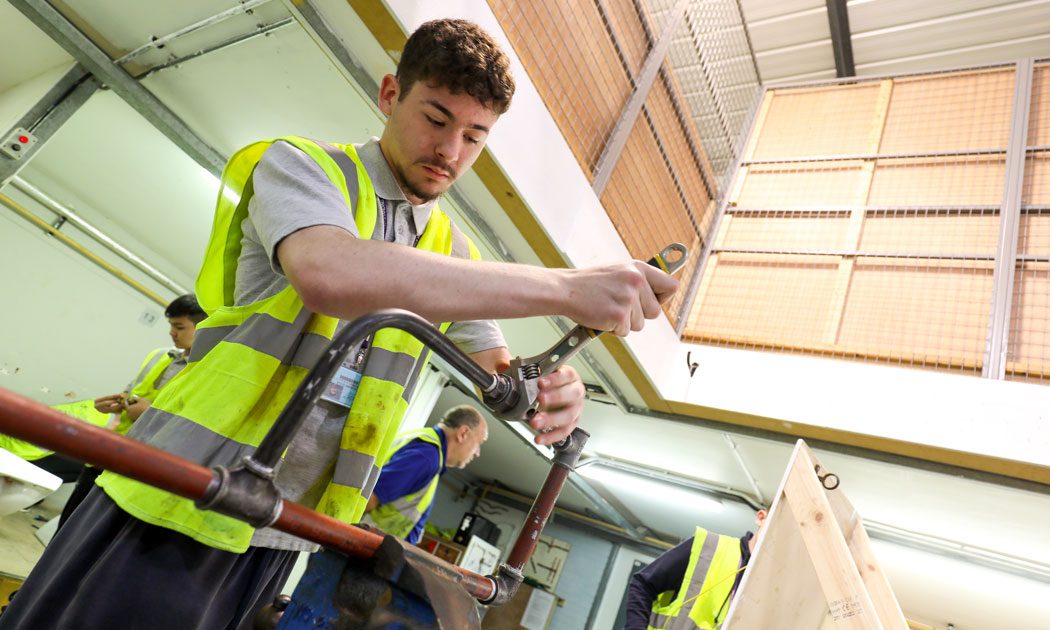 The broad purpose of this course is to produce a tradesperson who can apply layers of plaster onto walls and ceilings to a high standard. Plastering serves a protective function, in that it makes buildings more robust and also an aesthetic function. Plasterers will often complete dry lining projects during their career. Although a person may specialise solely in dry lining, a plasterer must have the knowledge of dry lining in addition to their knowledge and skills to plaster.
The occupation covered by this apprenticeship standard is for a Plasterer that will specialise in either Solid or Fibrous plaster work after undertaking the core learning (which includes introductory elements of both solid and fibrous plastering)

The aim of this course is to develop your knowledge, skills and behaviours to be able to perform all aspects of plastering, teaching the key aspects team working. The course will introduce you to both solid and fibrous plastering where you will perform basic skills of plastering intitally, working towards more complex tasks as your confidence grows.
The course is split in to 4 specific areas –
Core occupation duties D1-D18 then either
Occupational duties – solid plastering D19-23 or D24-D27
The duties range from the preparation of material and the background to be worked on to the application of a range of finishes with all areas in-between conducted in the general role of a plasterer.
Knowledge – K1-14 – to include health and safety, customer service, communication, application methods, restoration and how to produce reverse and cast mouldings.
Skills – S1-15 – to include safe working, fixing and jointing of plasterboard, plastering, repairing existing plastering, rendering, moulds, casting, rendering.
Behaviours – B1-4 - to include positive and mature attitude, quality focused, effective communication and being a self-motivated learner.
The delivery during the programme will cover all aspects of these KSB's and tasks performed throughout will cross over between them to cover a full range.
Further information can be found at –

www.instituteforapprenticeships.org/apprenticeship-standards/plasterer-v2-0
The End Point Assessment consists of 3 discrete assessment methods.
Knowledge test:
Practical Skills Test:
Professional Discussion:

Each method is graded as Fail, Pass or Distinction
A fully qualified and well-rounded, versatile and highly skilled member of staff that will contribute to the organisation needs and progression of the business.
PPE will be required-
Steel toe cap boots
Gloves
Ear protection
Hi-viz vest/jacket
Eye protection
There will be a requirement to have equipment necessary for the classrom based activities such as: Scientific calculator, pencils, Black ink pens, ruler, maths set, rubber, coloured highlighters, A4 project book, A4 leaver arch folder.
After the successful completion of the End Point Assessment you receive an industry recognised Level 2 Apprenticeship certificate.
After successful completion of this course you could progress to a career within the Plastering industry or progress to a higher level qualification.
The minimum entry requirement is GCSE English and Maths Grade 1