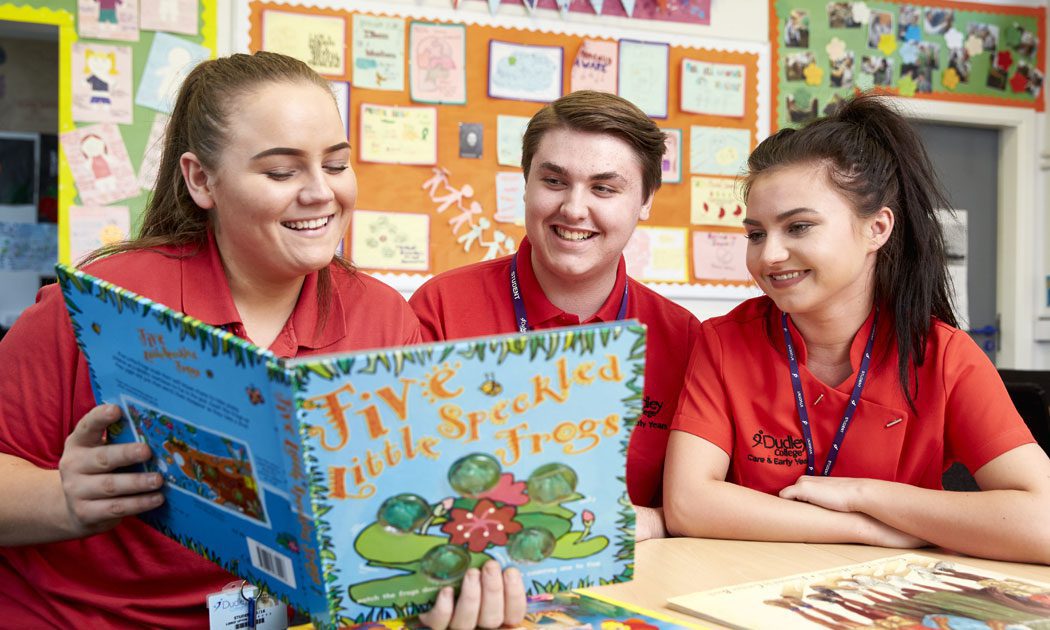 This qualification prepares learners to become Early Years Educators, enabling them to work with children from birth to 5 years and gain knowledge of children aged 5 to 7 years.
Upon achievement of this qualification it is intended that learners will be able to enter the workforce as Early Years Educators or access Higher Education.

Throught the duration of the qualification you will plans and supervise child initiated and adult led activities which are based around the needs and interests of each individual child.
- You will support the children to develop numeracy and language skills through games and play.
- Hold key person responsibility to help ensure each child feels safe and secure.
- Observe each child and shapes their learning experience to reflect their observations.
- Meet the care needs of the individual child such as feeding, changing nappies and administration of medicine.
- Work in partnership with other colleagues, parents and/or carers or other professionals to meet the individual needs of each child.
With additional experience, an Early Years Educator can become the manager of an early years setting
In order to aid holistic delivery and assessment we have structured the units around the following four themes:
Theme 1: Health and well-being
Theme 2: Legislation, frameworks and professional practice
Theme 3: Play, development and learning for school readiness
Theme 4: Professional development
Please see the Unit List for details about which units are grouped under each of the
themes.
Once the employer and assessor are satisfied the apprentice is consistently working at, or above, the level of the occupational standard the apprentice must complete the following approved qualifications mandated in the standard prior to being put forward for EPA:
- Early years educator qualification (Level 3)
- Level 3 Award in Paediatric First Aid. (RQF) or Level 3
- Award in Emergency Paediatric First Aid (RQF)
- English and maths (Level 2)
The apprentice also must submit a portfolio of evidence that will underpin the Professional Discussion. This cannot include reflective accounts or witness testimonies.

Assessment Method 1: Knowledge Test
• Fail
• Pass
Assessment Method 2: Professional Discussion underpinned by a Portfolio:
• Fail
• Pass
• Distinction
Ensuring staff are well trained and well supported can bring many benefits to individuals, teams, the organisation and most importantly, the children in their care.

Many benefits include a workforce that is confident and competent in delivering support and care that will ensure that the needs of children and those closest to them are met well.
Staff who are competent and confident are better prepared to support children in their chosen setting.
Supporting staff with training and education can help to sustain their health and wellbeing at work and support them in remaining resilient when providing care in difficult and emotionally demanding situations.
No additional materials required.
Apprentices must successfully complete a Level 3 Early Years Educator qualification.

Apprentices without Level 2 English and Maths will need to achieve this level prior to taking their End Point Assessment.
Apprentices must successfully complete the Level 3 Award in Paediatric First Aid. (RQF) or Level 3 Award in Emergency Paediatric First Aid (RQF) to meet the EYFS requirements.
There is the opportunity to progress to a Level 4 Apprenticeship Standard in Childcare Practitioner
Learners must be at least 16 years old and have a DBS check prior to commencing the course.