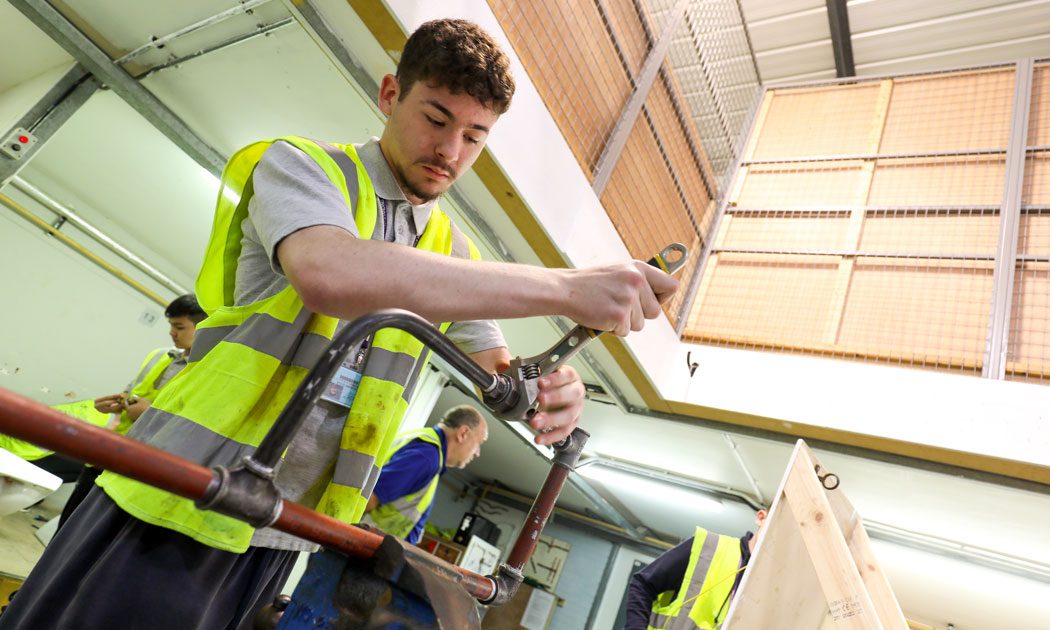 Building Services Engineering Craftsperson(Previously referred to as: Heating and Ventilating (H&V) Craftsman; H&V Fitter; H&V Fitter/Welder; H&V Pipefitter; Mechanical Services Fitter)
Building Services Engineering makes buildings work and this course will give the candidate all the knowledge and skills to be able to perform their job role. The candidate will undertake the installation, testing, pre-commissioning, commissioning and decommissioning of large-scale engineering systems which are used for heating workplaces such as those found in industrial and commercial buildings like office blocks, factories, schools and hospitals.

To give the candidate all the required knowledge and skills to be able to successfully install and maintain a variety of materials and components and to have a broad knowledge of engineering systems which operate by moving temperature controlled water around the inside of buildings, providing heating and cooling, and utilise fossil fuels and sustainable energy systems.

They will be able to demonstrate competence in the health and safety, communication, quality control and environmental requirements appropriate to their scope of work.

Candidates will gain the knowledge and skills to able to work within new build construction sites and existing buildings on their own, proficiently and without supervision upon completing their qualification and be able to work in the most efficient and economical manner. They must adhere to safe working practices without endangering themselves or others.

The course is split into three distinct areas – knowledge, skills and behaviours. These three areas are the fundamental underpinning part of the course to produce a fully qualified tradesperson.

The knowledge section of the course will include such areas as – safe working, working sustainably, planning, preparation and the installation of systems and pipework.

The skills section of the course will also include the same areas as the knowledge section but this will be the manual practical application of the knowledge they have obtained.

The behaviours section of the course will include – effective communication, working effectively and efficiently, taking responsibility, managing tasks, working with others, continuing professional development and working ethically.

More information can be found at –

www.instituteforapprenticeships.org/apprenticeship-standards/building-services-engineering-craftsperson-v1-0

The End Point Assessment consists of three elements that are undertaken in order as shown. The Apprentice must pass each assessment component before moving on to the next one.
Knowledge Test
Skills Test
Professional Discussion

Each element is graded with either a Fail, Pass, Merit or Distinction.
Successful completion of this course would have significant benefits to any employer as you would be able to demonstrate all the knowledge and skills necessary to complete a wide range of tasks that a fully qualified Building Services Engineering Craftsperson might be asked to complete.
PPE will be required-
Steel toe cap boots
Gloves
Ear protection
Hi-viz vest/jacket
Eye protection
There will be a requirement to have equipment necessary for the classrom based activities such as: Scientific calculator, pencils, Black ink pens, ruler, maths set, rubber, coloured highlighters, A4 project book, A4 leaver arch folder.
Upon completion of this course the candidate will achieve an industry recognised Level 3 qualification.
On completion of this standard, apprentices can progress to a wide range of employment opportunities, or move onto full or part-time further education.
The minimum entry requirements are GCSE English and Maths Grade 3