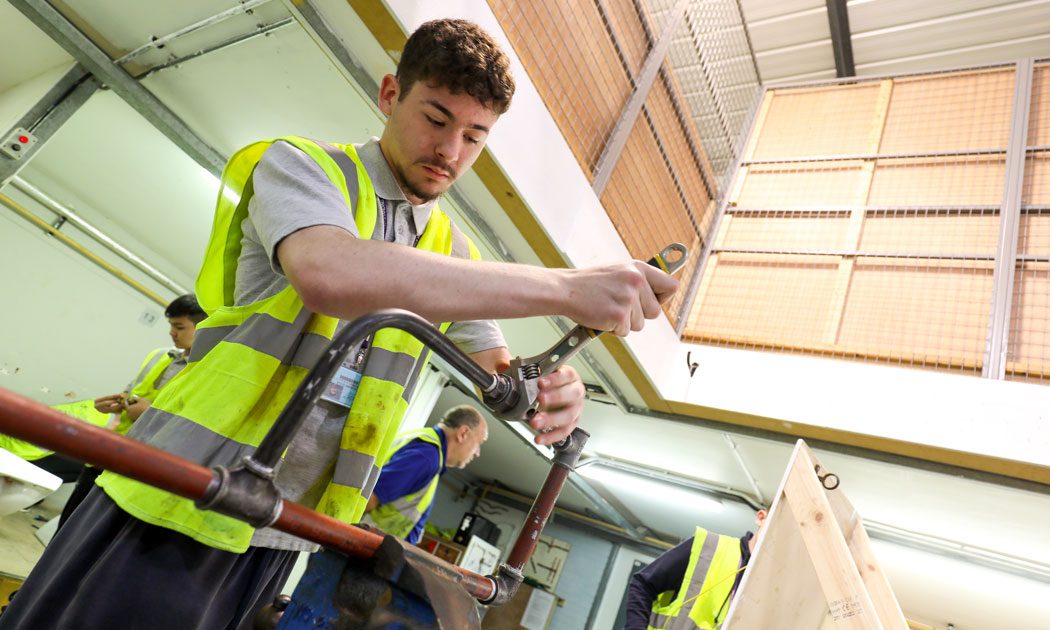 The main differences between a level 2 site carpenter / architectural joiner, and a level 3 advanced site carpenter / architectural joiner are that the advanced carpenter / joiner has responsibility for managing their own and other people's work, as well as being required to complete complex and non-standard work. Examples of complex tasks include curved products, irregular joints and bespoke work. Within this course there are two distinctive pathways which the nature of the candidates day to day work tasks will dictate which pathway is correct for their qualification

Pathway 1: An Advanced Site Carpenter will normally work on a building site, or in domestic and commercial premises, preparing and installing complex and often bespoke building components e.g. high quality doors, shaped linings, staircases with turns, complex wall and floor units, erecting bespoke structural carpentry (inclined roofs and joists) and erecting complex roof structures (e.g. inclined roofs with hips, valleys and dormers).
Pathway 2: An Advanced Architectural Joiner will normally be employed in a workshop, producing complex building components by setting out, marking out and manufacturing bespoke architectural products (e.g. doors, windows, staircases with turns and panelling/cladding).

The aim of this course is develop the candidates existing skills and knowledge and prepare them to be able to not only plan but to run/supervise larger jobs and to undertake more high skilled and none standard work procedures within their trade.
The course is divided into 3 specific areas – knowledge, skills and behaviours.
There are generic knowledge and skills requirements which are standard to both pathway options then specific knowledge and skills requirements for the candidates chosen pathway.
The core knowledge includes – health and safety, planning, working relationships, understanding of BIM, legislation and team working.
The core skills include safe working, planning, working relationships, interpretation of specifications, selection of resources and preparation to take a lead on a job.
The behaviours are generic to both pathways and cover – effective communication, teamwork, independent working, logical thinking, working effectively, time management and adaptability.
More information on this can be found at –

www.instituteforapprenticeships.org/apprenticeship-standards/advanced-carpentry-and-joinery-v1-0
The End Point Assessment comprises of three elements:
Knowledge Test:
Practical Skills Test:
Professional Discussion:

Each Assessment is graded Fail, Pass, Merit or Distinction.
Successful completion of this course would have significant benefits to any employer as you would be able to demonstrate all the knowledge and skills necessary to complete a wide range of building tasks that a fully qualified Advanced Carpenter/Architectural Joiner might be asked to complete.
PPE will be required-
Steel toe cap boots
Gloves
Ear protection
Hi-viz vest/jacket
Eye protection

There will be a requirement to have equipment necessary for the classrom based activities such as: Scientific calculator, pencils, Black ink pens, ruler, maths set, rubber, coloured highlighters, A4 project book, A4 leaver arch folder.
After the successful completion of the End Point Assessment you receive an industry recognised Level 3 Apprenticeship certificate.
On completion of this standard, apprentices can progress to a wide range of employment opportunities, or move onto full or part-time further education.
The achievement of this standard will meet the requirement of the Construction Skills Certification Scheme (CSCS) 'Advanced Skilled Worker' standard, which is widely recognised as a 'licence to operate' in a skilled construction trade.
The minimum entry requirements to join this programme are GCSE English and Maths Grade 3