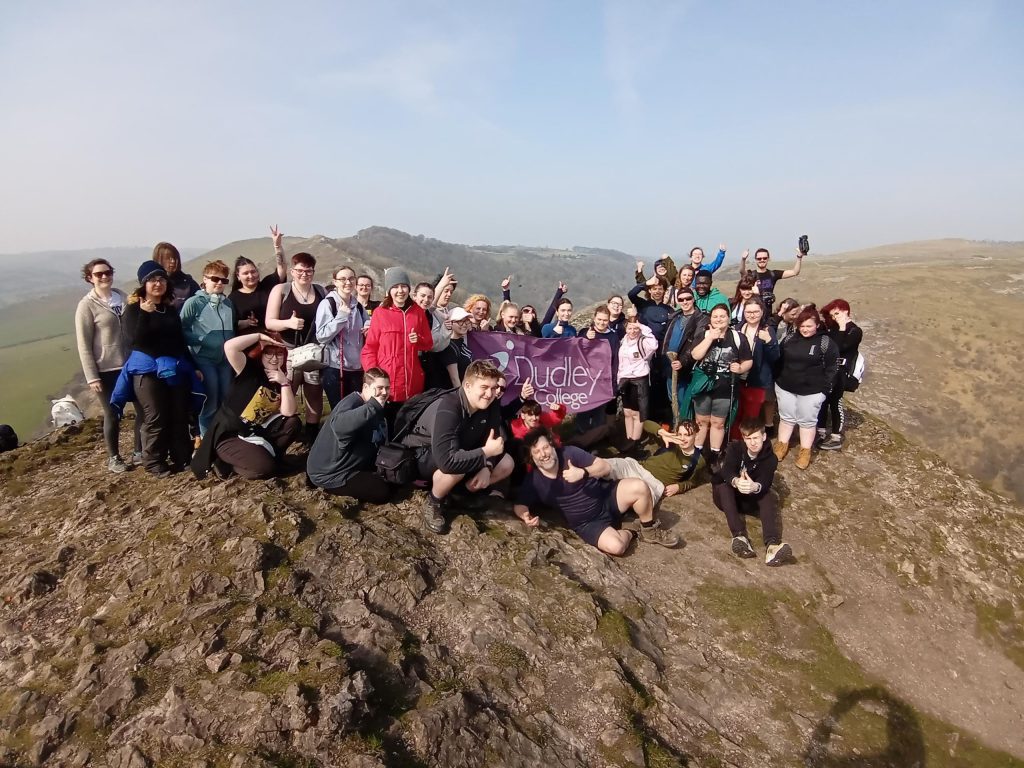 This March our students embarked on a four-day trip to Derbyshire for a wellbeing arts extravaganza, which included flying the Dudley College flag from the top of 1000ft Thorpe Cloud!
The trip was packed with adventure and students enjoyed a range of activities, from wild swimming and low level tight-rope walking to climbing into epic caves, fossil finding and watching paragliders.
Not only did they soak up the sunshine climbing two 1000ft mountains, they also walked 25 miles, 13 of which were completed in just one day. Students even went above and beyond in showing their kindness by rescuing an elderly lady who had fallen whilst crossing stepping stones.
Our fantastic Dudley College staff enabled a life-changing trip for our students. Phil Brooks, Lecturer in Performance Studies, said: "The level of challenge, confidence-building, cooperation, kindness, camaraderie and cheerfulness was something to behold! I believe the impact on self-esteem, aspiration, outlook and mental health for trips like this cannot be overstated."
Ellie Avison, Level 3 Photography student, said: "This trip was a great experience all round. Not only was it a chance for the creatives to find new inspiration and work together, but it was also very positive for our mental health. It brought several groups of individuals together and created this very inclusive and helpful group mentality. Despite pushing ourselves psychically, more than most had likely done before, it was a break, and a reset, that was well and truly needed for me and my fellow peers."
We hope our Photography, Art, Graphic Design, Production Arts, Media, and Music students enjoyed their four-day venture to Ilam Hall YHA in Derbyshire. Thank you to Phil Brooks, Jo Davis, Luke Cowdell, and Sian Taylor who together with PGCE student teacher, Milan Callaghan, led the trip.
We're sure our students and staff made lifelong memories, which is no doubt an exciting learning experience in itself.
Check out the highlights of the trip by watching our latest video, click here to watch now.