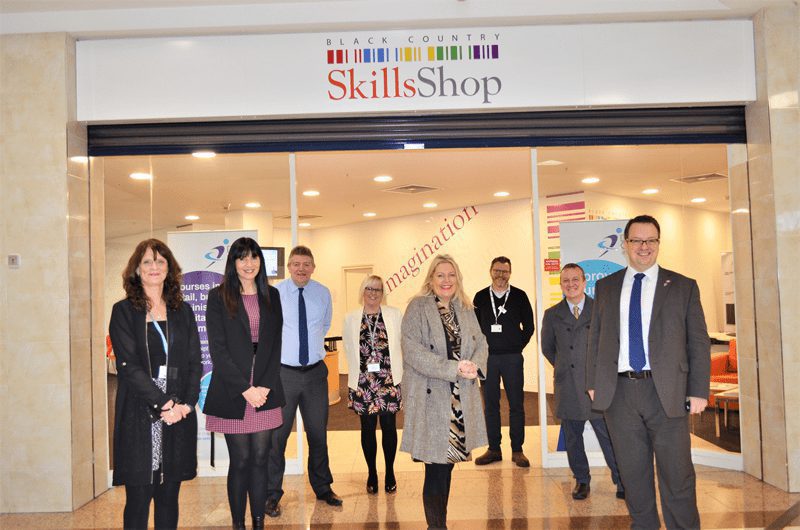 Minister for Employment, Mims Davies MP, paid a flying visit to Dudley College's Black Country Skills Shop in Merry Hill Shopping Centre on Thursday, on route to opening a new Jobcentre Plus office at Crossley Retail Park, Kidderminster.
At the Skills Shop she was able to meet with young adults benefiting from training delivered through the Youth Hub, who are part of the Government's drive to get half a million people currently out of work into jobs by the end of June as part of the new 'Way to Work' campaign.
At the meeting with Youth Work Coaches and customers the Minister heard about the partnership working that has been taking place throughout the pandemic with DWP and Dudley College delivering Sector-based Work Academy Programmes (SWAPs) for public sector roles within the Civil Service, NHS and hospitality sector. During the visit the Minister took a special interest in the mentoring programmes for young people with anxiety, which are delivered from the centre, that helps them overcome their challenges and helps to move them towards employment.
Following the visit to Dudley the Minister opened the new Job Centre in Kidderminster which will house a team of 22 Work Coaches, some of whom recently joined the Department for Work and Pensions (DWP) as part of the successful recruitment drive to hire 13,500 new Work Coaches across the country.
Minister for Employment Mims Davies MP and Wyre Forest MP Mark Garnier during a visit to the Black Country. Commenting on the day the Minister for Employment Mims Davies MP said:
"We know that work brings so much positivity both financially but also from a wellbeing standpoint, which is why we're boosting our DWP Jobcentre support and Youth Hub provision in every community in the UK, Including in Kidderminster and Dudley.

I was delighted to meet Work Coaches in Kidderminster and Dudley who are are already making a positive difference to the lives of so many individuals every day helping them to progress.

Our Way to Work campaign will accelerate this excellent work, connecting claimants in our jobcentres to opportunities out there right now and working even more closely with employers to fill their vacancies."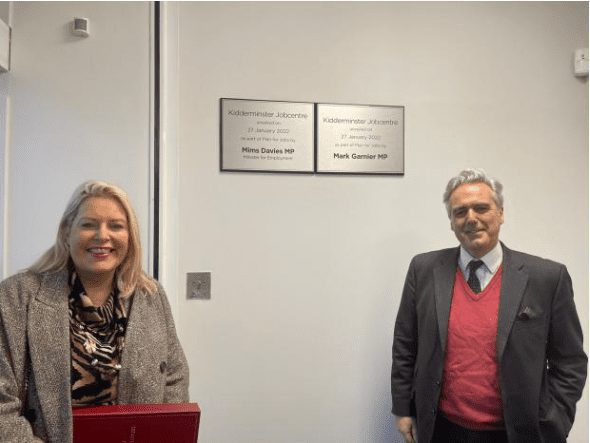 The Youth Hub Coaches at the College's Skills Shop are available to support all young people in the borough and individuals can approach them directly for help or ask to be referred there by Jobcentre Plus contacts.