Subcontracted Apprenticeships – Achievement (2020-21 Year-End)
Overall achievement rate – all apprenticeships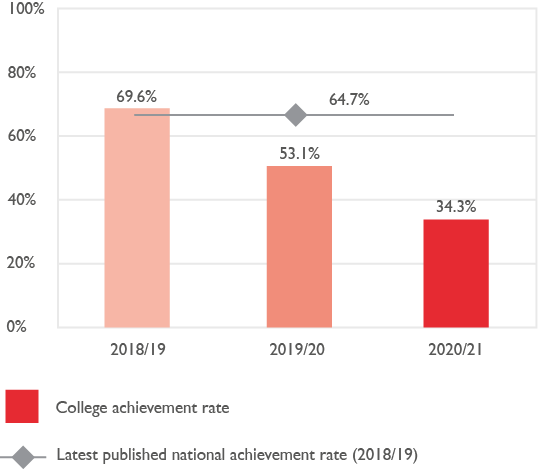 Intermediate apprenticeships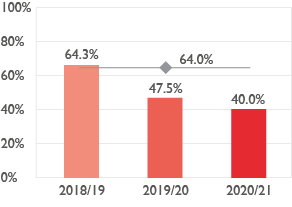 Advanced apprenticeships
Higher apprenticeships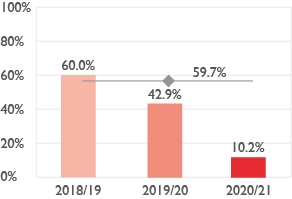 The impact of the Covid-19 health pandemic on partnership Apprenticeship achievement has been significant. It makes comparison with previous year national rates and college performance difficult, but this represents a below expectation performance. Overall achievement rate for partners is 34.3% (53.1%) for 2020/21.
Partnership achievement performance has traditionally been strong going back several years but has declined since 2015. Several partners were further significantly impacted by Covid-19 due to operating in sectors directly affected by the health pandemic and by the full impact of Apprenticeship standards (replacing frameworks).
The impact of Covid-19 also accelerated the College's three-year plan to reduce low added-value sub-contracted work and replace with in-college and/or high-value partner Apprenticeships . As such, there has been a managed reduction of several partnership/subcontractors activity due to below minimum level of performance (MLP) on achievement.
Aged 16-18 – all levels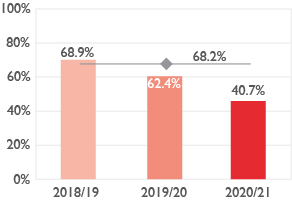 Aged 19-23 – all levels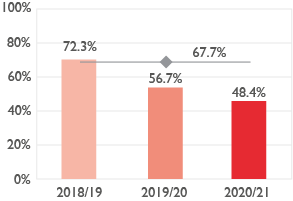 Aged 24+ – all levels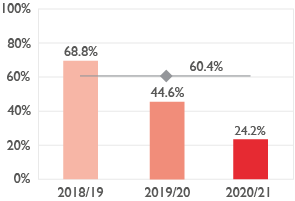 Analysis by age group shows underperformance in all age groups although a year-on-year comparison remains challenging due to the Covid-19 lockdowns. The data confirms an historical decline in performance that pre-dates the pandemic. The decline has accelerated as partners then struggled to manage the impact of Covid-19.