Higher Skills Learners – Enrolments (Updated In-Year)
The chart shows our enrolments onto higher level programmes. As can be seen, the number of adults studying these programmes has increased compared to the previous year. This is the result of our planned expansion of higher level study opportunities linked to local priority sectors, Some of which are now available through our new Institute of Technology. We will continue to expand this higher offer in collaboration with University partners over the coming academic year and beyond.
Higher Skills Learners – Enrolments (2020-21 Year-End Data)
Engagement and participation rates
Learner engagement trend analysis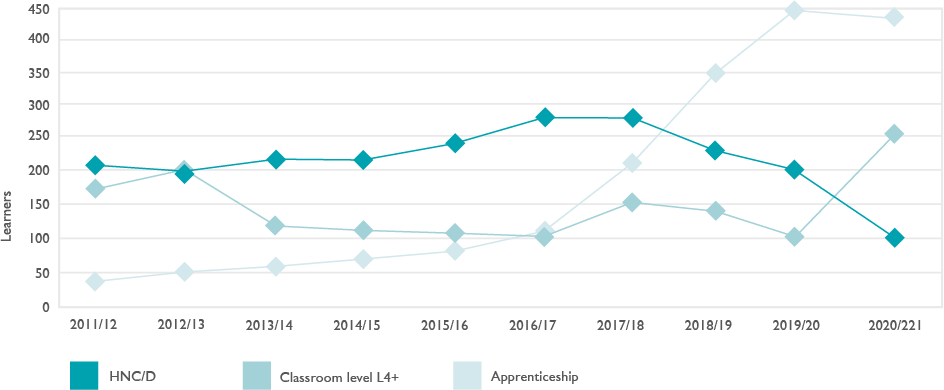 The college considers higher skills learners as:
HNC/D students – those studying dedicated HE programmes on a full or part time basis.

Classroom based Level 4+ students – adults studying FE provision that is level 4 or higher – including professional programmes such as Teacher Training.

Higher Apprenticeships- those studying at level 4 and above through an Apprenticeship programme.
In 2020/21 we had 407 (312) students undertaking higher level learning through classroom based and HNC/D programmes. The numbers on traditional stand-alone HNC/D programmes have continued to decline from a high point in 2017. Classroom based L4 programmes have increased significantly in 2020/21 and for the first time in four years. This can be directly attributed to growth stimulated by enhanced West Midland Combined Authority (WMCA) funding flexibilities for some higher programmes.
Travel to Learn Map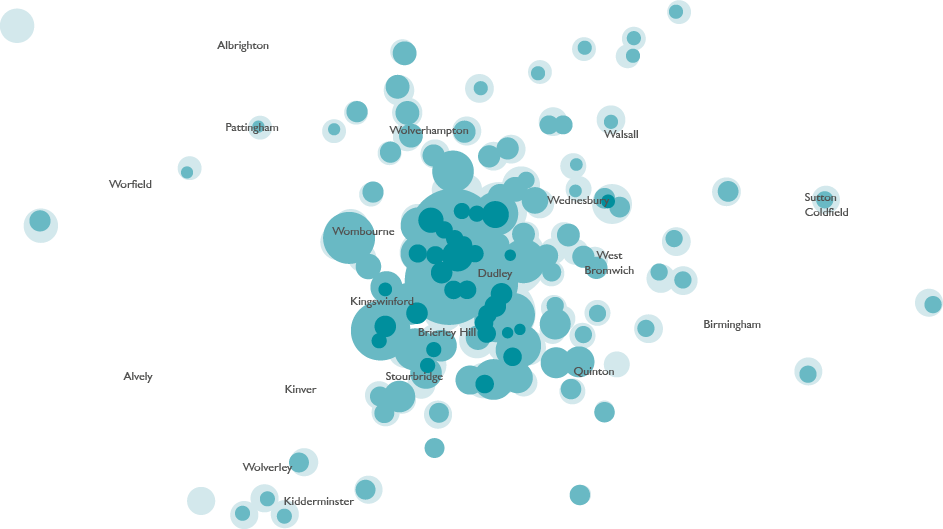 Higher Apprenticeship recruitment remained static at 435 (437). This is a positive outcome considering the external factors associated to Covid-19. The number studying Higher Apprenticeships has remained strong despite the impact of the health pandemic. These students continue to be a strategic priority for the College, and we have plans to further expand our HE Apprenticeship offer, particularly through the opening of the Institute of Technology in 2021.