Full Time Learners Aged 16-18 Years – Achievement (2020-21 Year-End)
Outcomes for Learners
Achievement rate – all programmes excluding English & Mathematics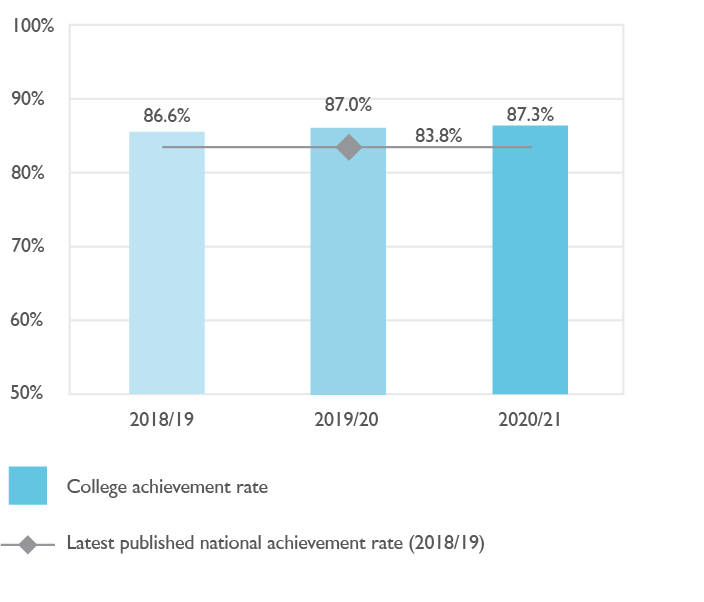 Achievement rates for our full-time learners aged 16-18 years have remained high and are above the latest published national rates at all levels. The overall achievement rate now stands at 87.3% and remains above the last published rate of 83.8%.
Achievement rate – level 1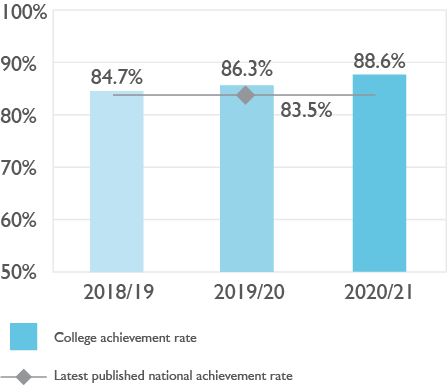 Achievement rate – level 2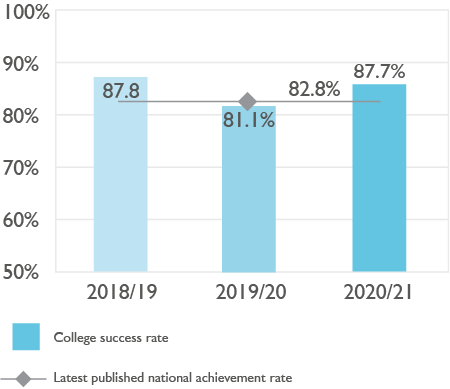 Achievement rate – level 3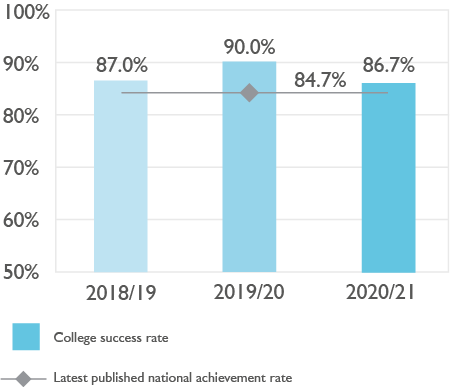 Level 1 achievement rate increased by 2.3% and is now 88.6% which is 5.1% above the last published national rate.
Level 2 achievement rate increased by 6.6% and is now 87.7% which is 4.9% above the last published national rate.
Level 3 achievement rate is 86.7% which is a slight drop when compared with previous years (-3.3%), this is linked to retention on linear A Level programmes but remains 2.0% above the last published national rate.
Functional skills SfL achievement rate – all levels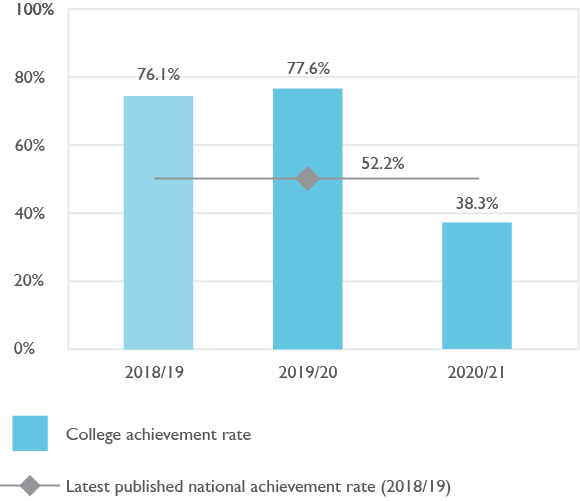 Following an improving trend in overall achievement rates in Functional Skills in previous years, there has been a significant drop in achievement rates for 2020-21. Teaching and learning on these courses were severely impacted by the national lockdown in January 2021 and, unlike core vocational and GCSE programmes where many learners received Qualification Teacher Assessed Grades (Q-TAGs), or assessments were subject to adaptations, learners on Functional Skills programmes were assessed through traditional examination methods. It is unsurprising to see a negative impact on achievement in this year of disrupted learning where alternative assessment methods were not applied consistently across all qualifications.
GCSE retake results – three year trend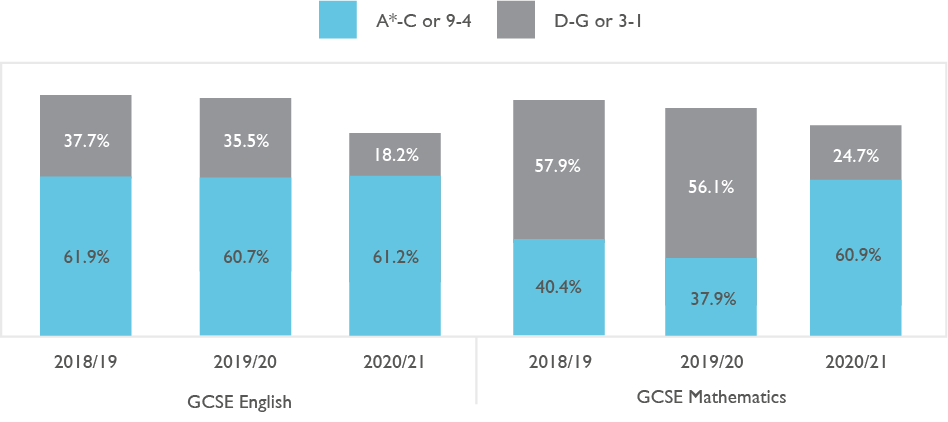 2020-21 continued to see very many learners undertaking GCSE resits, having not achieved this qualification at school. The national lockdown from January 2021 saw GCSE resits awarded through Qualification Teacher Assessed Grades (Q-TAGs). The team worked hard throughout the year to support learners through face-to-face, online and blended delivery to ensure learners were awarded a fair grade based on evidence from mock examinations and in-class assessments. Results for English remain strong with 61.2% of learners achieving a grade 4 or above. Achievement of high grades in Mathematics increased to 60.9%. Although there was an improvement in high grades, both subjects saw a dip in the total pass rate. This may be the impact of Centre Assessed Grades in 2019/20.