Apprenticeships and Work Based Learning – Enrolments (Updated In-Year)
Apprentices
Apprenticeship programmes for employers continue to be a priority for the college. The number of apprentices fell dramatically during the previous two years as a result of the pandemic and the impact this had on the employers we serve. This is reflected in the relatively low number of apprenticeships continuing into the start of this academic year. We are however pleased to see that many employers seem to have returned to recruiting new apprentices over the last couple of months and we expect to see the number continue to increase as the academic year continues.
Apprenticeships and Work Based Learning – Enrolments (2020-21 Year-End)
Engagement and Participation Rates
Apprentice engagement and trend analysis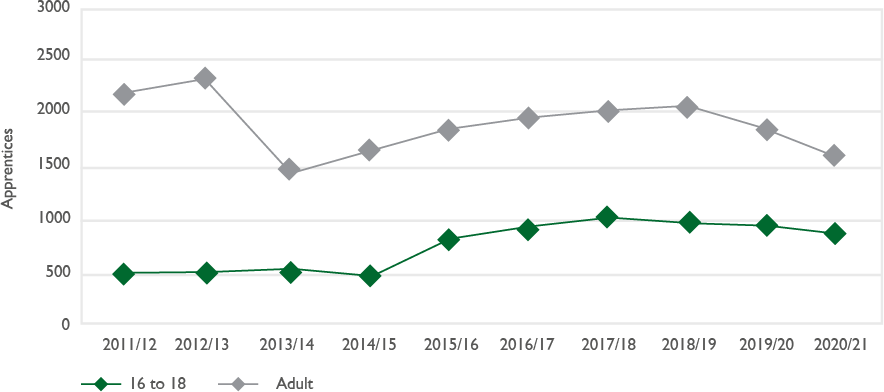 Despite the significant national challenge in 2020/21 with the Covid-19 global health pandemic, we continued to focus on the development of Apprenticeship provision for all ages. We were pleased to report high participation continued in 16-18 Apprenticeships at 940 (979) in 2020/21.
We are equally pleased to report the number of adult Apprenticeships continue to be maintained at a high level despite the pandemic and the planned reduction in partnership work. The number of adult apprentices was 1,606 (1,840) in 2020/21. In total, some 2,546 (2,819) individuals undertook Apprenticeship training directly (excluding sub-contracted apprentices) with the College in 2020/21. We remain the provider of choice for many local and regional employers looking to develop staff through Apprenticeship programmes.
The provision is supported by effective engagement with local employers and dedicated Apprenticeship placement services offered by our Employment Hub and Employer Engagement Managers (EEM's).
Apprentice Provision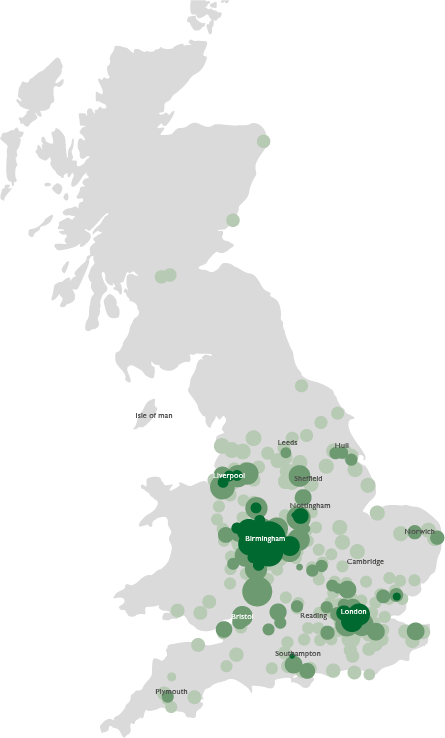 The heat map shows the home location of college-based (exc. sub-contracted partnership activity) apprentices. The vast majority of the College's direct-delivery Apprenticeship provision is based locally and in the West Midlands Region. The majority of 16-18 apprentices follow a day release programme. Adult Apprenticeships are often based locally but there are pockets of focussed activity in other regions due to specific initiatives with key partner employers including national NHS trusts. This can include delivery of bespoke Apprenticeship programmes on employer premises.