Apprenticeships and Work Based Learning – Diversity (2020-21 Year-End)
Impact on Diversity and Inclusion
16 – 18 Apprenticeships
Gender mix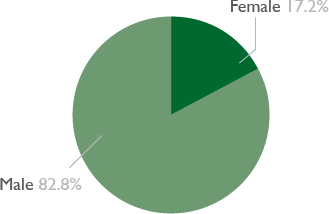 Ethnicity mix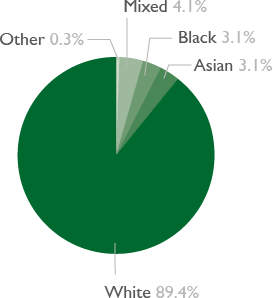 Learning difficulty or disability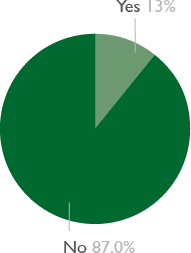 19+ Apprenticeships
Gender mix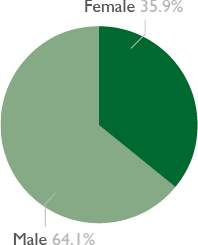 Ethnicity mix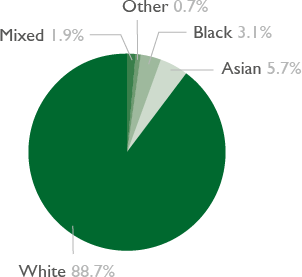 Learning difficulty or disability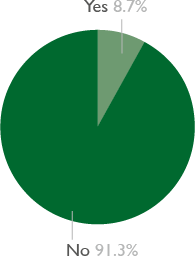 In 2020/21 the percentage of female, adult apprentices has remained at similar levels to the previous year 36% compared to 38% the previous year, the percentage of female 16-18 apprentices has disappointingly continued to decline from 19% to 17%. Overall female Apprenticeship participation at 29% (31%) remains below expectation. This may be as a result in a fall in young people starting Health & Social Care, Early Years, Hospitality and Hairdressing Apprenticeships, curriculum areas with traditionally high female to male ratios. We continue to work with schools to drive up female engagement in STEM careers, supported by the introduction of the Institute of Technology (which opened in September 2021).
Our BAME Apprenticeship participation profile is broadly representative of the communities we serve and slightly higher than the previous year 11% (10%) but lower than other College student cohorts such as classroom-based provision. There is variable achievement performance of BAME apprentices with Asian and Black ethnic minority learners below expectation and Mixed and Other at or above. The College will work hard to ensure intervention is in place to narrow the gap of achievement for the Asian and Black apprentices and this will remain a focus of the Equality & Diversity Group.
We were pleased to support 248 (285) apprentices with self-diagnosed learning difficulties or disabilities (LLDD) in 2020/21, which is a similar percentage to the previous year at 10% (11%) of all apprentices. We deliver support to these apprentices using a dedicated Apprenticeship support team. We have continued to focus on ensuring this support programme meets individual needs. Remote support via electronic devices and telephone has been implemented since the start of the Covid-19 period.
There is a positive turn-around in achievement comparisons between those apprentices self-diagnosed as LLDD and those without up to +1.1% from a -5.4% the previous year. This is attributed to the exceptional learning support offered to LLDD apprentices.