Apprenticeships and Work Based Learners – Achievement (2020-21 Year-End)
Outcomes for Learners
Overall achievement rate – all apprenticeships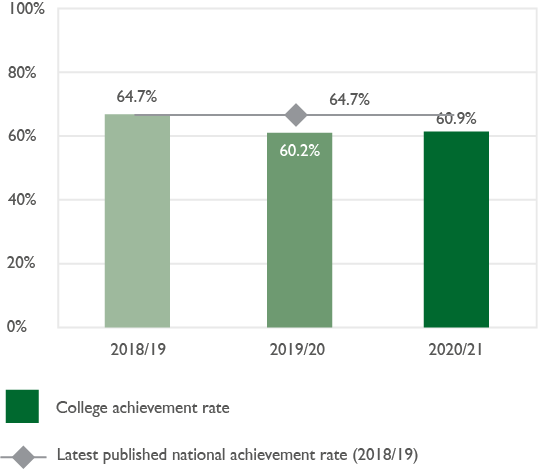 Intermediate apprenticeships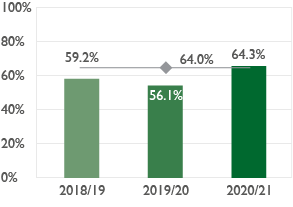 Advanced apprenticeships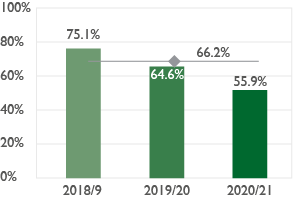 Higher apprenticeships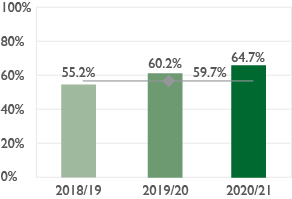 2020/21 was an exceptionally challenging year for many employers and apprentices. Despite this, we managed to marginally improve our overall college-delivered achievement rate. Overall achievement rates for college-delivered Apprenticeships are marginally above the previous year 60.9% (60.2%) which is particularly pleasing given the impact of Covid-19 on the 2020/21 academic year.
Achievement performance was also influenced by untimely completion due to issues with awarding organisations (AO's), with higher than usual numbers of apprentices failing to complete End Point Assessment (EPA) as a result of delays in AO adaptations and availability of EPA Assessors.
Despite the significant impact external factors had on Apprenticeship achievement, we can be confident the internal quality of teaching, learning and assessment on Apprenticeship programmes remains strong. This is evidenced by the high Apprenticeship EPA pass rate of 95.1% (the number of apprentices who pass their EPA as a percentage of the number who sit the EPA).
Continuing the improvement in college-based overall Apprenticeship achievement is our primary focus for 2021/22, as is developing new partnership arrangements with high added-value partners and Universities.
Aged 16-18 – all levels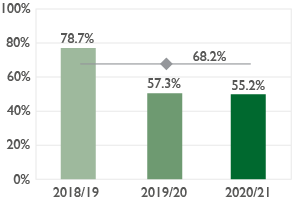 Aged 19-23 – all levels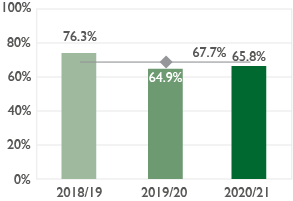 Aged 24+ – all levels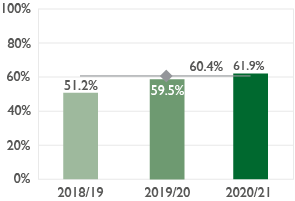 Analysis by age group shows underperformance in all age groups although a slight year-on-year improvement in adult Apprenticeships. Comparison remains challenging due to the Covid-19 pandemic and the issues around End Point Assessment. We are committed to growing high value-added college-delivered Apprenticeships where local and regional needs exist. We are also continuing to reduce low added-value sub-contracted partnership provision, replacing with new high value-added partners including NHS Trusts, Avensys Medical, CNET Training and regional Universities.