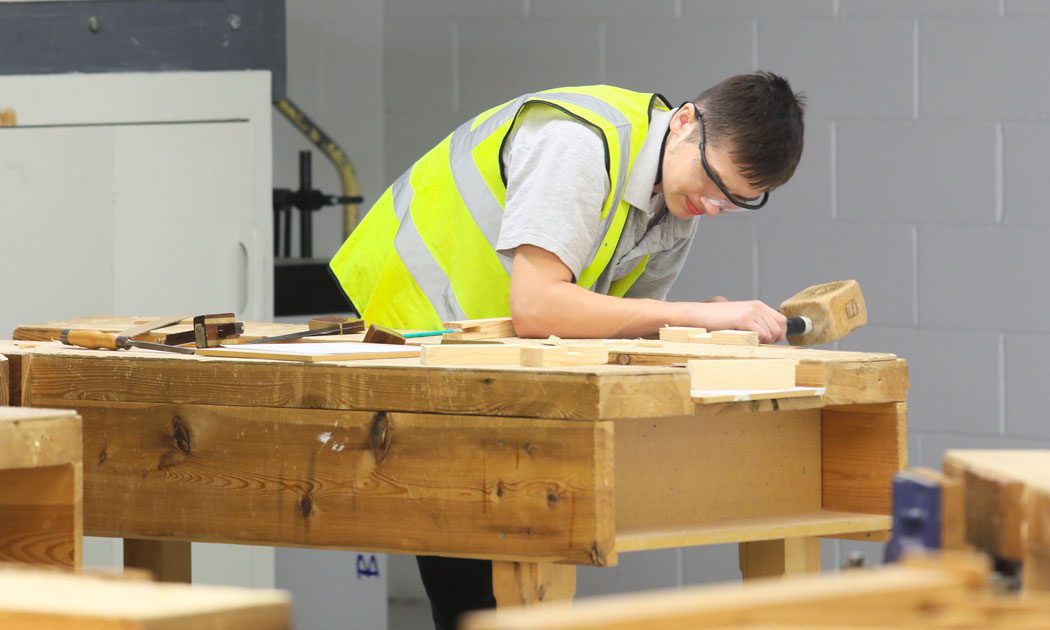 T Levels are new course, which follow GCSEs and are equivalent to 3 A Levels. These 2-year courses have been developed in collaboration with employers and businesses so that the content meets the needs of industry and prepares students for work.

T Levels will offer students a mixture of classroom learning and 'on-the-job' experience during an industry placement of at least 45 days. They will provide the knowledge and experience needed to open the door into skilled employment, further study or a higher apprenticeship.

The T Level Technical Qualification in Construction: BrickworkCourse is suitable for anyone wanting a career as a Bricklayer.

This course is delivered by expert tutors and industry specialists, ensuring that the skills you learn are up to date and in demand by the construction industry.

You will develop your knowledge of concepts, theories and core skills relevant to Onsite Construction sector. You will learn about design, health and safety, construction methods, building regulations and standards, the construction industry and its role in the economy.

You will also study the specialism of Bricklaying.

During the 2-year programme you will develop the core knowledge and skills that are needed for entry to a range of onsite construction trades. Including:

• Health & Safety practices associated with carrying out construction work
• The science behind building design, surveying and planning
• Making accurate and appropriate measurements
• The construction industry, careers within it and its role in the economy
• Sustainability and the environmental impact of construction
• Construction design principles, methods, and processes
• Using maths to solve construction problems
• How the Internet of Things (IoT) impacts construction
• Data management and information standards in construction digital engineering techniques
• Business, commerce and corporate social responsibility
• Tools, equipment and materials used in construction work
• Legislation, regulations and approved standards that apply to the construction industry.

Every T Level will include an industry placement with an employer focused on developing the practical and technical skills required for the occupation. These will last a minimum of 45 working days but can last longer.
The T Level in onsite construction comprises a common core and occupational bricklaying.

The common core is assessed by two externally set exams (learners normally sit these exams at the end of year 2 of the programme). The learners chosen Occupational Specialism is assessed by a combination of centre marked assignments and a 'synoptic' practical workshop assessment. Learners also have to complete an employer set project, and meet the behaviours of the industrial placement.

Note: All components of the assessment criteria shown above must be achieved to pass the qualification.

Students who pass all the elements of their T Level will get a nationally recognised certificate showing an overall grade of pass, merit or distinction. It will also set out the details of what students have achieved on the course.
Stationery, calculator, notepad. Safety boots are required by all students.

Financial support for materials may be available for learners who live in low income households.
On sucessfull completion you will achieve a T level in Onsite Construction – Brickwork.
T Levels are a nationally recognised programme which are equivalent to 3 A levels, and have been allocated UCAS points. You must achieve at least an overall pass grade to receive UCAS points.

On completion of the course you can progress to: Higher Education / university or move into employment.
The entry requirements for the Level 3 T Level in Onsite Construction are based on the key subject areas of Maths, English and Science (Physics and or Chemistry). Applicants would be expected to have achieved the key subjects at GCSE grade 4 or above (or equivalent Level 2).

Students who have completed a level 2 Diploma in Bricklaying will be considered for this T level if they have achieved Maths and English to Grade 4.