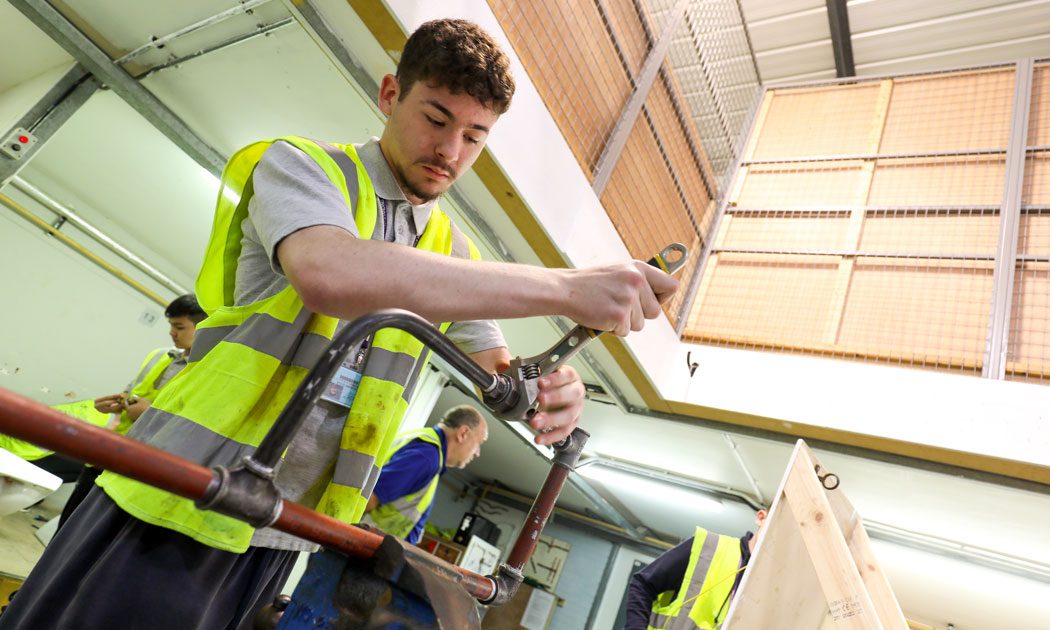 Painters and Decorators operate in domestic and commercial properties and undertake the decoration and protection of buildings. Properties include houses, schools, offices, hospitals factories and construction sites. Working internally or externally they work individually and/or as part of a team applying water-borne and/or solvent-borne paint coatings and wallcoverings. They have good knowledge of paint coatings and wallcoverings and understand and comply with statutory, safety and environmental requirements. They are responsible for their own work achieving a high quality finish at the appropriate pace
The course is split in to 3 specific areas –
Knowledge to include – helath and safety, communication, principles of coasting, safe use of materials, working in different sectors, us of traditional and modern materials, colour, COSH, working with a range of materials, technique and application.
Skills to include – preparation, application, identification and working to customer needs, selection of appropriate materials, recommendation of product and colour, identify substrates and wallpapering.
Behaviours to include – responsibility, strong work ethic, attention to detail, a customer focused attitude, effective communication and an awareness of the business mission and aims.
The delivery during the programme will cover all aspects of these KSB's and tasks performed throughout will cross over between them to cover a full range.
Further information can be found at-

www.instituteforapprenticeships.org/apprenticeship-standards/painter-and-decorator-v1-0
The end-point assessment (EPA) will assess how an apprentice can apply their
skills, knowledge and behaviours acquired in their apprenticeship, through the
following three assessments carried out after the gateway point of the
apprenticeship:
1. Knowledge test – this test will consist of multiple-choice questions on either
a paper-based or computer-based platform.
2. Skills test – assessed over three consecutive days by an Independent
Assessor, this assessment will holistically assess skills, knowledge and
behaviours acquired throughout the apprenticeship.
3. Professional discussion – assessed by an Independent Assessor following
the skills test, this discussion will consist of questions that clarify and probe
the apprentice's knowledge and skills based on the portfolio of evidence
developed by the apprentice.
A fully qualified and well-rounded, versatile and highly skilled member of staff that will contribute to the organisation needs and progression of the business.
PPE will be required-
Steel toe cap boots
Gloves
Ear protection
Hi-viz vest/jacket
Eye protection
There will be a requirement to have equipment necessary for the classrom based activities such as: Scientific calculator, pencils, Black ink pens, ruler, maths set, rubber, coloured highlighters, A4 project book, A4 leaver arch folder.
After the successful completion of the End Point Assessment you receive an industry recognised Level 2 Apprenticeship certificate.
After successful completion of this course you could progress to a career within the Painting & Decorating industry or progress to a higher level qualification.
The minimum entry requirements to join this programme are GCSE Grade 1 for Maths & English