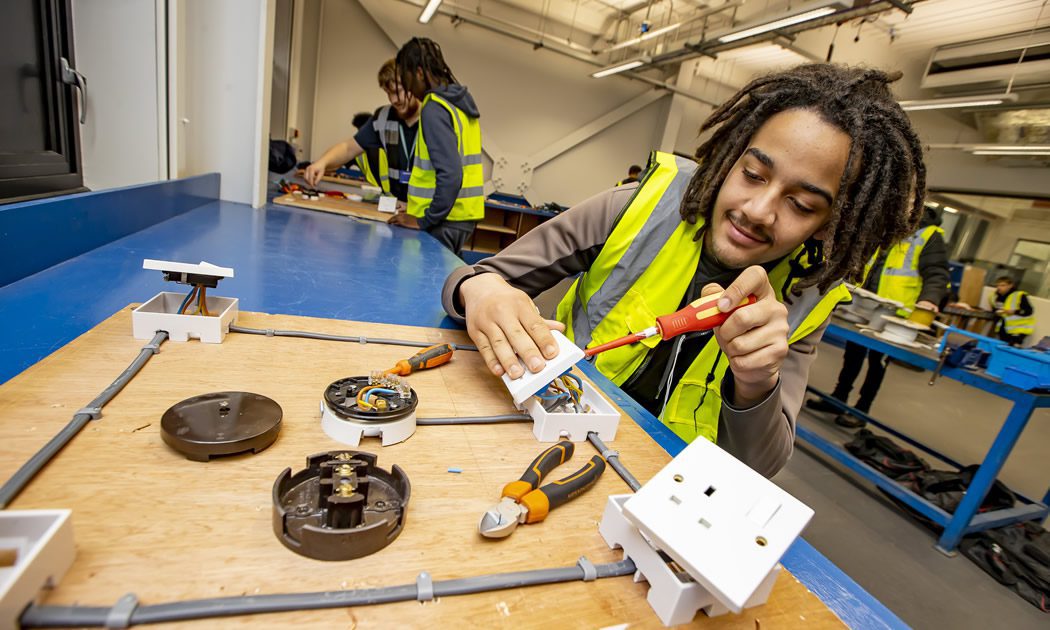 T Levels aim to provide the knowledge and experience needed to open the door to highly skilled employment, higher level study or a Higher Apprenticeship.

The course is delivered through workshop-based practical sessions, class-based theoretical delivery and work experience placements in your second year.

This qualification will help you gain an understanding of Electrotechnical Engineering within the Building Services industry sector. You'll have access to guest speakers and industry experts, site visits, relevant field trips and industry placements on live sites out in the world of work. There is also an employer set project, which you will complete as part of a team.

In the first year you will focus on the core units covering a broad range of BSE specialisms, In the second year of the course you will focus on your specific occupational specialism. This will enable you to be confident in all elements of electrotechnical engineering. These skills can be applied to a variety of jobs within the industry including electricians and electrical engineers.
The core content consists of the following units:
• Health & Safety in Construction
• Construction Science and Principles
• Construction Design Principles
• Construction and the Built Environment
• Construction Sustainability Principles
• Construction Measurement Principles
• Building Technology Principles
• Construction Information Principles
• Relationship Management in Construction
• Digital Technology in Construction
• Construction Commercial/Business Principles
• Building Services
• Engineering Systems
• Maintenance Principles
• Tools Equipment and Materials

Students will also take the following specialist units:
• Electrotechnical Engineering
• Install electrotechnical systems
• Commission electrotechnical systems
• Maintain electrotechnical systems
• De-commission electrotechnical systems

Time in college will be spent learning in our Advance 2 facility, in industry standard workshops and classrooms. Some of your learning time will be project led, bringing together your theory, knowledge and practical skills into an individual or group project.

You'll be assessed through two examination papers,
Paper 1 (Science and Building Technology) and Paper 2 (Construction Industry and Sustainability). You must also completean an employer set project.

There is also a single synoptic assessment for the Electrotechnical Engineering Occupational Specialist Component, which is an extended 'design, development and implementation' project.

You will spend dedicated time in class with industry experts – who will deliver and assess bespoke modules which fill critical skills gaps that the industry have identified. Plus, you will be assigned an employability tutor to support you with your programme and progression towards readiness for the world of work.

All learners will be required to spend a minimum of 45 days on a mandatory industry placement.
You will be required to purchase the following text books prior to starting your studies
• BS7671 AMD2 18th Edition Wiring Regulation
• Onsite Guide
• Guidance note 3 Inspection & Testing
• C&G T-Level Building Services Engineering for Construction (Core)

You will also need a
• Casio Scientific Calculator
On completion you will hold a T Level Technical Qualification in Building Services Engineering for Construction (Electrotechnical Engineering).
This qualification focuses on the development of knowledge and skills needed for working in the Building Services Engineering industry, which will prepare you to enter the industry through employment or as an Apprentice.

The completion of this qualification gives you the opportunity to progress onto higher education courses and training.
Progression routes shown are dependent on successful completion of qualifications and meeting entry criteria.
Study options may include:
• Level 3 Apprenticeship in Electrical Installation
• Higher Level Study at University or on a Degree Apprenticeship programme.

Employment options may include:
• Electrician
• Building Services Engineer
• Electrotechnical Engineer
• Building Project Manager
• Building Services Designer
You will have achieved a minimum of five GCSEs at grade 4 or above. Including Maths and English at grade 6 or above plus one science subject at grade 5 or above.