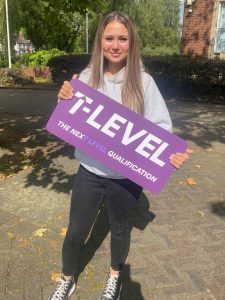 Dudley College of Technology and Dudley Sixth students are celebrating another successful year of study, as today they receive their final results.
Achievements in vocational programmes has been strong with an overall Level 3 BTEC pass rate of 90.8%, with 30% of passes being achieved at distinction level. And the overall rate for Extended Diploma was even better at 94.6%.
In the new T level provision, students achieved a fabulous 100% pass rate in all four subjects, with 47% of all learners achieving distinctions. Particularly good performance was achieved in T level in Digital Support Services with 86% of learners obtaining distinctions and in T level in Education and Early Years where it was 82%.
Against a national trend of depressed A level results Dudley Sixth College students secured a100% overall pass rate in 24 of the 29 A level subjects. With Dudley students passing at a higher rate than their counterparts in the rest of England (JCQ pass rate for England 97.2%, Dudley pass rate 98.1%). But even more impressively 44% of all entries were achieved at high grades (A* -B) and 72% of all entries A*-C.
Celebrating with learners today College Chief Executive and Principal Neil Thomas said.
"I'm delighted to see many students performing at this level and getting the grades they deserve. For many of them this is the first time they have sat formal examinations, so it is a mark of their hard work and that of their teachers they have done so well."
Commenting on the A level performance Ben France, Curriculum Manager for Dudley Sixth said:
"I'm pleased that so many of them have achieved the grades they needed to secure their places at top universities. I am particularly pleased that this year we have seen a very strong performance with all entries in a range of subjects including Economics, further maths and Media studies achieving A* to C. And our performance in Science Technology Engineering and Maths subjects (STEM) was consistent with the last three years achieving 100% pass rate in Biology and Chemistry and 97% in Physics. We have seen a "deflation" of grades this year in line with the national pattern and we will be seeking a regrade for several students. I do believe it was too soon to remove all the mitigations that were extended to learners impacted by Covid especially as those concessions have continued in Wales, Scotland and Ireland., so it is especially pleasing that so many learners have done so well."
Both Dudley College and Dudley Sixth are currently taking applications for September admission. Higher Education courses are also available at the college.  Students who are interested in joining should telephone 0800 783 6095 for further information or visit www.dudleycol.ac.uk for technical courses and dudleysixth.co.uk.